AILING BILLIONAIRE,MIKE ADENUGA IS GETTING BETTER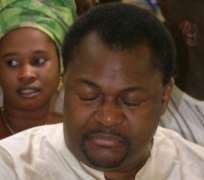 For friends, well wishers, and family members of the Chairman of multinational telecommunication company Globacom, Otunba Mike Adenuga who has been down for weeks now, owing to an undisclosed ailment, this is celebration time as the billionaire has recovered from the ailment that almost claimed his life.
Sources divulged that he returned back to the country a couple of days back.
The wealthy Nigerian was spirited abroad weeks back on grounds of ill health.
He was said to have slumped during a board meeting at his office a year ago.
After the incident, his health was believed to have waned- his prolonged journey abroad was meant to enable him to enjoy top rate health care facility- and return to good health.
It is not clear whether he has achieved this one hundred percent- but sources claimed 'the talk is that he appears better'.
Informants divulged that since he returned- the money man has stayed put at his Victoria Island Lagos resident.
We shall keep you posted as events unfold.