AN ACE UP VIVIAN EJIKE's SLEEVE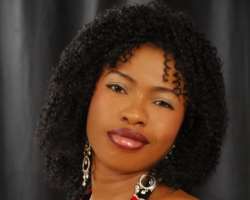 Producer, Vivian Ejike has just completed work on yet another block buster movie. This new flick which brings to two the number of yet-to-be-released blockbuster movies under her stable, guarantees her fans and movie buffs the world over, an exciting emotional roller-coaster ride when it's released. The yet-to-be released flick parades, in the producer's usual style, the best in Nollywood and Gollywood like : Omotola Jalade-Ekeinde, Ramsey Noah, John Dumello, Ngozi Ezeonu, Ufuoma Ejenobor and a host of others. The Silent Scandals which the hardworking movie producer is busy with the premier at the moment has received so many awards nominations.
Silent Scandals is a thought provoking and suspense-filled movie written and produced by Vivian Ejike.
It stars the best of Nollywood and Gollywood [Ghana movie industry] like : Genevive Nnaji, Majid Michel, Uche Jombo, Ebele Okaro and a host of others. It was shot in chioce locations in and around Lagos. The best and most professional production and post production equipments where brought in by the producer for the UK and Hollywood,to ensure the quality of this movie and subsequent productions from her stable Purple Pine Productions are of world class standard.
Vivian Ejike's Silent Scandals which got three nominations at the concluded ZAFAA Awards in London joins her When the Heart Lies [which got 3 nominations in the up-coming Best of Nollywood Awards.] in her recent haul of movie nominations and awards.
Work is in progress for the world premiere of Silent Scandals which is scheduled for the next couple of weeks in New York, Lagos, Accra, Port-Harcourt, Abuja.
A host of corporate bodies and organisations are positioned to partner with the producer on this laudable project.
Fans and movie buffs should be ready for the thrill of their lives as Vivian Ejike is poised to rewrite the story of movie-making in Nigeria.
SILENT SCANDALS- The SYNOPSIS
Jessy, a pretty, young, very successful but uptight lady struggles with life as a career woman and single mother to a wild and free-spirited teenage daughter. Just as she learns to enjoy the new but fragile peace with her daughter who finally sobers up, a dark shadow rears its head, threatening to destroy everything in its path.
Jessy suddenly finds herself locked in the battle of her life...a silent battle against her daughter....for a common purpose....each for her own heart. She must fight with everything she has, to protect the things that matter the most to her....her simple heart, and above all the love and happiness of the ones most dear to her.
Loyalties are tested and emotions are hurt, leaving everyone and everything shaken to the very root of their being and foundation.
By Alonge Micheal
Story by http://nollywoodgists.com