TAME POVERTY, UNEMPLOYMENT -TINUBU URGES FG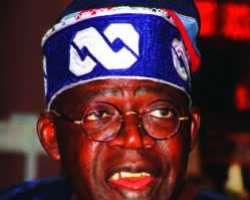 Senator Oluremi Tinubu yesterday unfolded her constituency projects with scholarship award to 651 indigent students and empowerment of 650 petty traders. Tinubu, who represents Lagos Central Senatorial District in the National Assembly, however, urged the Federal Government to tackle widespread poverty and unemployment as a matter of urgency.
She unfolded her project during the maiden edition of the Town Hall meeting with the people of Lagos central senatorial, tagged 'Stewardship of Hope,' held at Muson Centre, Lagos.
Tinubu, stated that the first leg of the initiative, which is Post-Secondary School Scholarship Scheme (PSSS) was to empower brilliant but indigent students from her constituency.
Under the scheme, 26 students got annual scholarship awards of N100,000 to finance their university education for four years while additional 625 got N10, 000 each 'towards defraying the cost of purchasing academic books.'
The lawmaker also inaugurated the Petty Traders Empowerment Capital Scheme (PETECS), where 50 petty traders from each of the 13 local government areas and Local Community Development Areas (LGAs/LCDAs) were selected and given N20, 000 each to capitalize their petty trade.
Speaking about her activities and experience at the upper chamber of the Legislature in the last six months, Tinubu charged the Federal Government to tackle the challenge of poverty and unemployment with urgency.
'I firmly believe that it is only when the Federal Government resolves the problems of widespread poverty and mass unemployment that we can all say that Nigeria is on the path to genuine progress and development.
'Without resolving these challenges, the Federal Government will only be seen as disseminating rhetoric while millions of families continue to suffer the very negative effects of poverty, insecurity and lack of access to education, poor health and other preventable difficulties,' she said.
The Town Hall meeting was graced by the zonal and state leaders of the Action Congress of Nigeria (ACN), led by its South-west chairman, Prince Tajudeen Olusi and State Chairman, Chief Henry Ajomale, all who acknowledged the performance of Tinubu as a Senator in the last six months.
Olusi urged party leaders and members to rally round Tinubu and support to bring more succor to the people of Lagos central districts and the state as a whole.