Popular Actors With Stereotyped Roles In Movies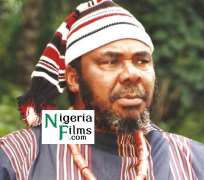 Popular Actors With Stereotyped Roles In Movies
For those who know who a good actor or actress is, as an actor, you should be able to act and interpret and deliver any given role well.
Checking most films produced in Nigeria nowadays; there is no doubt that we have good actors and actresses, who have always delivered their roles well in movies they have acted in. The list is endless if we begin to mention their names.
But one thing most film watchers and the main movie consumers are not happy about is how some of these acts are known for playing a particular role in almost all the films they act in. It is a common thing seeing some actors in movies; you already know what character they would play in that film.
For some of these acts, they may not be too comfortable with that, but the producers have seen them to be good at that and are not willing to change them from that.
Below are some of these acts who are already stereotyped to a particular character;
BABA SUWE: for the lovers of Yoruba films in Nigeria, it is unarguable that Babatunde Omidina, known as Baba Suwe in the make-believe world, plays no other role except a comic character in movies. Even when he tries to play a serious character in movies, he does not do it well as he must add the comic and mischief character to such roles. One thing is sure, whenever one sees Baba Suwe in movies, it is either he is acting as a gateman, messenger, housemaid or roles of the likes.
OSUOFIA: Nkem Owoh, it seems he cannot act any other role apart from a funny character. Since coming into the industry, where he started acting as a drunkard in movies then, he has only graduated from being a drunkard to a comic character. He has always acted roles where he makes people laugh and sometimes acts mischievous roles. We are still waiting when Osuofia would change roles to very serious ones.
HANKS ANUKU: This is one Nollywood acts that has been in the game for a very long time. Tall, huge and with a scary look, Hanks has made a name in the play-acting industry with the bad boy roles he plays in films. There is most times no wrong guess on the character this America-returnee would play in film when he is seen on movie jackets. Though not in most movies nowadays, Hanks, when he flooded films, had a stereotyped character of a bad boy. I sometimes try to imagine seeing Hanks acting a complete lover boy in films, don't you also?
OGA BELLO: When you call veteran in the game, Salami Adebayo a.k.a Oga Bello is one of those that can confidently answer. Getting the name 'Oga Bello' in the now rested Village Headmaster, Salami has produced another scion in his like in the industry, Femi Adebyo. Oga Bello is one actor that has always acted the role of a rich man in films. Though he has picked up few roles as a poor man, one would see that he best fits in the Big man character he has always acted.
PETE EDOCHIE: Called a legend, Pete Edochie is one actor that is well respected in the showbiz circuit in Nigeria. Since his days in 'Things Fall Apart' where he acted Okwonkwo, Pete has become big in the game. This lanky father of the industry is an actor that has good roles always given to him to act. One thing is very certain, when you see him in movies; he can never be physically beaten. Even if he plays a downtrodden character, he can never be clapped, beaten, or bodily maltreated