BANKING SYSTEM NOW SAFER - SANUSI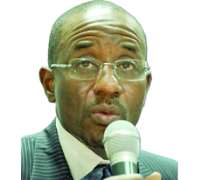 • Sanusi
Nigerian banking system is now stable and well positioned to stimulate the growth and development of the Nigerian economy, the Governor of Central Bank of Nigeria (CBN), Sanusi Lamido Sanusi, has said.
The governor, who spoke at the end of the 3rd Bankers' Committee Annual Retreat in Calabar, Cross River State, said: 'After two years of focused attention by the regulator and operators, the nation's financial crisis is in the final lap of resolution.'
The CBN chief said that in the Year 2012 the Banking industry agenda wants to address outstanding issues relating to the restoration of the balance sheet of banks, entrenching corporate governance, avoiding build-up of non-performing loans and encouraging lending to the agricultural sector, amongst others.
The bankers, in a communiqué at the end of the retreat, resolved to impact the economy more positively and also commended President Goodluck Ebele Jonathan for his reform agenda at creating jobs and growing the economy.
Sanusi said the Bankers' Committee, which has the CBN Governor, the Deputy Governors of the Central Bank, Managing Director of the Nigeria Deposit Insurance Corporation and the Chief Executive Officers of the deposit money banks present chose the theme: 'Financial System Stability and Implication for Economic Development', in recognition of the challenges facing the global and local financial system.
The Bankers' Committee engaged experts from within and outside Nigeria for the retreat to develop strategies for improving on the gains recorded in real sector development, ensuring sustained stability of the financial system as well as determine further opportunities for financial system intervention, Sanusi said.
According to the apex bank boss, the CBN is keen on increasing the impact of the banking system on the economy and by that is adopting a strategic approach to increase formal usage of financial services to 70 per cent from the current level of 36 per cent of the adult population of Nigerians.
'We affirm our commitment as bankers to a stable financial system for Nigeria and one that contributes to economic development,' Sanusi said, stressing that the apex financial institution has taken proactive actions to address short, medium and long term issues facing the banks.
On monetary and fiscal policy development, the Committee in the Communiqué advocated greater fiscal prudence and rationality in government expenditure. The Committee asked for the establishment of the sovereign wealth fund (SWF) and expressed support towards its operationalisation.
Sanusi said the central bank will remain focused on its primary mandate of ensuring price stability, stressing that it has instituted a framework for enhanced monetary policy, transparency and accountability and will in the short term, 'continue to implement a tight policy rate environment to support price stability.'
Fielding questions from journalists, the CBN governor expressed the view that planned removal of petroleum subsidy will not trigger very high inflation rate in the country, 'as only about 2 per cent rise is anticipated and that it is