Our family is more important than career — Daniel & Doris Adenimokan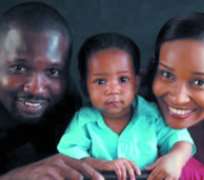 They cut the picture of the golden couple of Nollywood. She is an actress while her husband is a top director. Doris Simon and hubby, Daniel Adenimokan bare their minds on marriage and the evil bedeviling the homes of celebrities.
Why do you eat late at night?
Daniel: We're eating late at night because we've been busy all day going back and forth. We came back late and I can't go to bed with an empty stomach.
Why is it that both of you are always seen together almost every time?
Doris: Because we do the same kind of job so I don't see the reason why we shouldn't be together
Daniel: But mind you, it is not even all the time she travels that I'm here. I travel and she is here and I go to do my work and she does her's and most times we are together because we get stock on most of our projects together. That is just it.
Will they not be accusing your wife of being 'Ruth', the woman who sticks permanently with her husband ?
Daniel: No, no my wife doesn't stick permanently to me. She is totally independent . She does her thing and I do my own thing but oftentimes we've being doing things together and I am the one that drags her to follow me.
People were a bit disappointed with your movie Omo Iya kan...what happened?
Doris: Like I was saying, you know people watch a movie from different perspectives. It all depends on your own way of analyzing a movie that you've seen. Look at Transformer, some people see it as a hype, but my husband loves it so much and I love it too. It is just that way. I don't expect everybody to love it. It's a good thing to make an effort to do something and then you see what people would say about it.
Daniel: Let me just try to buttress what she said. The truth is this, people see all sorts of movies, and they have different opinions about them. I as a director made the movie, together with my wife, to at least step away from the norm. The movie that you've seen is far from the regular thing people have been doing and it will definitely generate mixed feelings. Some people have seen me and said this movie is tight! While some have said well 'It is just okay'. As far as I'm concerned this movie is encouraging . It's an effort towards the right direction. So not everybody is expected to like the movie, it all depends on the angle you are looking at it from. If you had expected too much from it and you didn't get enough well too bad! I would even expect so little and get so much from it.
Was the movie a commercial success?
(Daniel) I would tell you it was a huge success. Because it sold beyond our expectations. We are happy and we are smiling today.
Your marketer must have been responsible...
(Daniel) Well, you see this issue of marketer is a relative thing. I can't put all my trust on one marketer. If I'm doing business with someone, I trust the person to at least do the right thing and report to me on how good the movie sold. I'm not going to stand here and tell you that my marketer told us the sales figure and I'm not going to tell you that he did not tell us the figure. I'm just happy with the film and we are neither hungry nor starving. I wish we could have done more, if there is a way we can control the distribution of films so that we can have an accurate figure, it would be good. But believe me, you can quote me, Omo Iya kan sold out the very day it was released. It was sold out completely.
Magodo is said to be a symbol of class for Nollywood people, is that why you moved there?
I don't want to even talk about where I live right now. Everybody likes his or her own privacy.
How is it like being a director and married to an actress?
Daniel:Does it now mean a director can't raise a kid responsibly? It doesn't disturb anything! Angelina Jolie has 7 or 8 kids and she is raising them as a mother. My wife is the best mother you can think of on this planet. We are not on location 24/7. We have time for our son. What you are implying is that film makers can't have time to raise their kids. That is not right.
Dorris: I make sure I have time for my family. My job is not a do or die affair. It is not as if I must go to work to get my salary at the end of the month. If I don't want to, I won't.
Are you saying that you family is more important than your career?
Daniel: The family is more important than any career you can ever have. It is the most important thing in life. After the family, every other thing comes next. If I'm on location and I fall down, the job would continue and my family would suffer .
Owing to the belief of many that marriages in Nollywood are on life support, don't you entertain the fear that things might go wrong along the line?
Dorris: Whenever they ask me this question, all I say is as long as you are married to your friend and you are married to somebody you love with the whole of your heart, and God is involved in your relationship, I don't see the reason why I should shake. Because God is involved in my marriage and I got married to my best friend and to the person I want to spend the rest of my life with. There is no relationship devoid of misunderstandings, but you settle them between yourselves. You don't have to carry it out all because you are a Nollywood star. Every individual out there gets married and also gets divorced, but they won't say anything about them. But if it's a superstar or a celebrity, they would say they have started again. Meanwhile, this issue is a general problem. It is happening every where.
Daniel: I have said personally that I would not entertain questions about my marriage from any source. People make a big deal out of nothing. If I get my wife pregnant yesterday it is nobody's business. The better we keep our marriage life to ourselves the better for us. Look at Olu Jacobs and Joke Silver, they've been together for God knows how long.You think they don't have troubles or quarrels? They do, but they have remained together. Ronke Oshodi Oke is in London doing fine, they say she's out of marriage, and these things are not true. Let people just leave us alone with our marriage lives.
How come you bear that surname and you are not Yoruba?
Daniel: My surname is Ademiokan which is Itshekiri, but I think somebody has to go and ask my father why my surname is Itshekiri while he is an Urhobo man. I don ask am, the man never give me answer. My mum is Itshekiri while my dad is an Urhobo man, so I'm a complete south-south person. So if you yellow, I go kidnap you straight (laughs).
Doesn't the number of people your wife dated in the past bother you?
The truth of the matter is, do you know the number of people I have dated before I met my wife. Every human being has a past. The earlier you get away from your past and move forward, the better for you. When you think of such things, you will remain in the same position.
Most people allege that marriage slows actresses down in Nollywood, but your case is different . You seem to be waxing stronger by the day. How do you manage?
Doris: Ah that is a big question. Well I thank God for that. I appreciate God for that … I really appreciate God for that. I don't know… I can't say… I don't know tomorrow. I don't know what will happen in the next, it's just God . I don't know why it is happening like that.It's just God,because even by our saying that okay o we are going to change Nollywood to be a better place, it not us now, it's just God. Did we know that Nollywood will change their way of shooting movies now; the story lines; the technicalities; the locations; costumes and everything? We didn't know it could change in this regime. We just thank God that it has really changed and they are trying .We don't know that Nollywood would be the third largest production company in the whole world, it's just God.
How have you been coping with marriage?
Marriage is not easy but sweet. It is very sweet…you know what you really want and you know the reason why you are in it. So it is just the grace of God, you don't rush into it...
What can you not give up for your marriage because some people will tell you that they cannot give up their career for their marriage and to some, they cannot give up God for their marriage. So for you, what can you not give up for your marriage?
I can't give up my career for marriage.
Are you saying that your career is more important ?
I am not saying my career is more important than my marriage but if I don't work, how will I manage my family, how will my family survive because I work for my family?
(Husband interrupts)
I think, once you say no, that means that marriage supersedes every other thing else. Marriage first then every other thing follows.
What does love mean to you?
(Sighs) Love? Love is life. Love is in everything you do. If you don't love yourself, you can't love your neighbour. If you don't love yourself, you can't love God and if you don't love God then you can't love anybody.
What can you do for love? I have heard people say, I can kill for love. Some say, I can sell anything for love…
The bible says "…thou shall not kill…" but for love I can spill my last blood for someone I really love like my husband and my children.
Somebody once said that you love your husband too much… is this true?
Yeah, I love my husband very much.
So, you don't believe that love can be too much?
No I don't think so.
Sometimes, do you feel lucky for the kind of man that you have?
I feel like the luckiest woman in the whole wide world.
Have you ever felt like; I don't deserve a man like this?
I have never in my life felt that way about my husband.
What attracted you to each other?
Well, he is a nice guy… he his hardworking and very focused. So I guess that is what attracted me to him.
What do you think makes marriage work and what makes it break down?
I think if you want to get married, you should get married to your friend. I mean someone you know and believe you want to spend the rest of your live with and pray that God should come into your relationship.
What are the other things that make marriage work?
Love is involved… God is involved because I think God is involved in everything. He is the only God that we call upon. I don't know any babalawo or any alafa that I can run to that will make my marriage work. As long as I can call upon the name of God myself and ask God with my mouth to preserve my marriage He will.
What makes marriage brake down?
I think I can answer that.
(Husband interrupts)
I think the only thing that would make marriage work is God. Secondly, a lot of communication and understanding. If the couple talks about everything and there is a quarrel between them, it would be a lot easier to solve because even I and my wife quarrel at least twice a day and we still resolve it though I believe quarrel has levels. And if someone is hurt, then I think an 'I'm sorry' should do and I think this will help a marriage to work. On the other hand; in an industry like ours, what can kill a marriage is competition between the couple. If the wife is concerned about her career moving faster than that of her husband or because the husband feels bad because the career of his wife is moving faster than his, then there will be problem. If my wife is the person that people want to see, it is my duty to push and support her. I will be the one working behind the stage to make it possible for her and if I am doing a project, she'll also support.
What's your education background like?
I grew up in Surelere. I attended Adegbola Primary School and later attended Ikoprin Estate High School in Surelere. From there I went to the University of Ibadan and later to a film school. I went further to study Computer Science at the University of Ibadan.
Do you want to say that is what is responsible for everybody saying... Daniel is a genius?
I don't know about the genius part, I just do want I like and know how to do.
Don't you think your education was important to your career?
Education is of course important but it is not just the film school. I know of some people that didn't go to a film school who are equally very good. Though the school is good, it will open your eyes to see things. If the stuff is not in you, the film school is a waste.
But people that are making names in the industry now like Stephennie and Kunle Afolayan went to film school.
Yeah, but ... Chukwu also went to movie school but he has made better movies than what they have done. Ikechukwu Ameka didn't go to a film school but he his making good films. There are some people in the industry that didn't go to a film school. I don't want to say film school was an advantage.
Do you ever entertain the fear that your spouse will cheat?
No. Why should I entertain such fears? The truth is that it is when you put yourself in that mindset that it will happen. I have never put myself in that position to make that happen. So, I don't entertain such fears, and I don't entertain such ideas in my head. My wife even traveled to Canada with one of her colleagues and nothing happened.
Do you mean that while she was away, you didn't have any affair?
It seems you don't know me. I am a work-a-holic and I am a studio rat. Right here in my house, I have a studio where I do post-production work. So, I could be locked up in the house doing what I have to do. I am a work-a-holic and that is why you don't see me at events.All I do is stay in my house and work and work. If am not doing somebody's project, I'm working on ways to improve my work (my T.V Program) and if I'm not doing that, I am writing scripts. People who know me, know that I don't have time for women.
What is the next thing you guys are working on?
Well, we just shot a new movie titled Asiri (secret) where my wife is the producer. I am the director and we have Pasuma, Ronke Osodi-Oke and Toyin . That is the next thing on board now and it is a film people should watch out for. It is a movie that we are trying to experiment with and I am sure we will achieve that.
When are you releasing the movie?
Hopefully, before the year runs out. The movie is already done but we are waiting for one or two things to fall into place. The film is being shot, it has being edited and as I speak, the mastering is in the 'cooler'.
So, why are you not going to the cinemas?
This movie was not made for the cinema. Every film maker should know that there are films made for cinemas and there are films made straight for DVD. So this is straight for DVD.
Have you seen The Figurine?
Yeah...it's a beautiful movie.
Do you think Nollywood is ready for the next level?
Yeah.My producer is also ready,though making movies is not cheap. We have movies like that.
Story by http://nollywoodgists.com