Bomb Targets Military Checkpoint In Maiduguri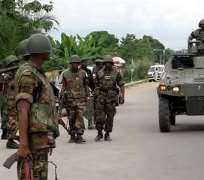 Gunmen bombed a military checkpoint in the northeastern Nigerian city of Maiduguri, where an Islamist sect has been blamed for scores of attacks, the army said on Thursday, reporting no casualties.
A military spokesman for a special force deployed in the troubled city, Hassan Mohammed, said the attackers "threw an explosive device and opened fire on the soldiers at the checkpoint" late Wednesday.
Soldiers returned fire and the attackers fled, abandoning their car. No one was killed or wounded in the attack, according to Mohammed.
An Islamist sect known as Boko Haram has been blamed for scores of attacks, mostly in northeastern Nigeria.
The group also claimed responsibility for the August suicide bombing of UN headquarters in the capital Abuja that killed at least 24 people.
There has been intense speculation over whether the group has formed links with outside extremists, including Al-Qaeda's north African branch. It is believed to have a number of factions with varying aims.
It launched an uprising in 2009 put down by a brutal military assault which left some 800 dead, then went dormant for about a year before emerging with a series of assassinations.
Bomb blasts have since become frequent and have grown in sophistication.
Nigeria is Africa's most populous nation with some 160 million people, roughly divided between a mainly Muslim north and predominately Christian south.