Victor Osuagwu's clean-shaven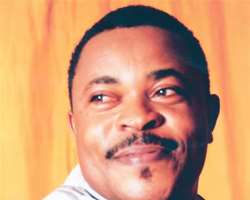 RAN into the comedian, Victor Osuagwu, at O'jez on Tuesday night and I almost did not recognise him. His famous thick moustache was gone; he was looking confused like a fish out of water. He was the first to announce to T4T why he shaved his identity moustache.
Victor just finished work on a movie, where he played as a woman, Victor a woman? With that belly? Dis Nollywood people no go kill us! Anyway, we are waiting for the movie to be released from Idumota Market. Can't wait to see Victor as a woman, but another issue is that Victor that night was intentionally aiming to drown himself in stout. It was a wonder he drove home that night. Keep it up; at least you have an uncle in Sam Loco who is worthy of emulation. To God be the glory.
Story by http://nollywoodgists.com