Untold story of Lillian Bach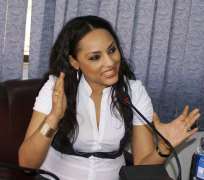 Why she's scared of marriage, her Isale Eko/Mushin connection
She's tall, beautiful; her skin glows even in the dark. And she's got the kind of figure every man would die for. A former model, beauty queen and now a successful Nollywood actress, she commands attention everywhere she goes. Little wonder she was easily chosen to be the face of a popular toilet soap.
Welcome to the world of half Polish and half Nigerian born Lilian Bach. She opens up on her past, her fears for Nollywod and more.
It is captured irresistibly for your weekend delight. Enjoy.
Where do we categorize you: Nigerian or foreigner?
I'm partly Nigerian and partly polish. My dad was from Poland, while my mother hails from Isala-Eko in central Lagos. I started off as a model before I veered into acting. I have been in the movie industry since 1997. But I actually started modelling in 1989. I'm not married at the moment.
How did you become the Face of Delta Soap?
I became the Face of Delta in 2000, and I reigned for two years before another Delta Face took over from me.
Is that what brought you to limelight?
Not really because that was just a modelling job. I believe I have always been in the limelight. It's just that modelling didn't give me much publicity when I started out. But like I said, I got into the acting profession in 1997 and then, I guess, I didn't have enough experience.
The first two jobs I did were not rewarding at all, as one of the producers absconded with my fee. The second job was not encouraging to me, resulting in my taking a break for sometime. When I came back, I did movies like, 'Married to a Witch', 'From Grace to Grass'. And these movies, I would say, brought me into limelight in the acting profession.
Have you ever taken part in any beauty pageant?
Yes, in the early days of my modelling career. I used to be involved in pageant and fashion shows.
Did you ever win?
No, I never won any pageant show. But I guess I was too slim then as a model.
You appear to be a shy person. Are you shy when you want to face the camera?
I'm like the late king of pop music, Michael Jackson. Michael was a very shy person but when it came to his work, he was no longer the shy guy we used to know. Outside acting, I'm a very shy person. When I'm working or acting, I try as much as possible to do away with shyness to enable me to interpret my role brilliantly, otherwise I would not be seen as a good actress.
How did you find yourself in the acting profession?
I accompanied a friend of mine to an audition, and on getting there, there was nobody to read the scripts with him.
The director there and then requested that he asked the lady that came with him to fill the gap. I later joined him, and after reading the scripts, the director remarked that I read very well and that I could make a good actress. That was how I got my first acting role. And after that first role, more roles followed suit.
How's your father?
My father is late now.
What's your relationship with his family in Poland?
I don't know much about my dad's family. But first of all, they don't speak English. They speak Polish and if there's need for me to communicate with them, I usually engage an interpreter who understands and speaks Polish. I don't speak nor understand the language. But I speak Yoruba fluently.
Are you in touch with them?
Yes, I'm in touch with them, and in fact, I will be visiting them in the next two weeks.
Where did you grow up- here in Nigeria or in Poland?
I grew up here in Nigeria. I had my nursery, primary and secondary education in Nigeria. I was formerly a student of Theatre Arts at the University of Lagos before I took a break to attend to some pressing needs. I have my other siblings that I'm responsible to. That's why I decided to take a break to attend to their education needs first and foremost.
When I'm ready to continue with my education, I'll just take off from where I stopped.
When my father was alive, he was always on transfer from one state to another. We have lived virtually in all the major cities of the country- Port-Harcourt, Ibadan, Abeokuta…. In the process, I kept changing from one school to another school.
I was at the Army Children's School, Port-Harcourt, one of the local government primary schools in Lagos. I attended Idaraba Secondary School, Mushin.
There's this concern about acting nude in Nollywood. If you have the opportunity, would you scribe to it, and for what price?
I can't act nude. I don't think I have the moral upbringing to act nude. I'm a Christian and I respect my body as the temple of God. I don't think Nigeria is that kind of society that accommodate nudity acting. And I don't think we have to go nude to pass a message across to the movie bluffs. I can't do it for any price. I worship in a Pentecostal Church.
How was it growing up?
It was very interesting. I was very close to my dad. And I learnt a lot of things from him. That's why I found myself doing a whole of things; drawing and designing things. My dad was a Mechanical engineer by training, but he could do a whole lot of things for himself. Somehow, because I was very close to him, I found myself doing a lot of things too. I can draw, design and so on.
At what age did you lose your father?
I lost my father at the age of 10.
You said, you attended Idaraba Secondary School, what was it like growing up in Mushin better known as the haven of urchins ?
Let me say this, when I lost my father, my mother was a full time house wife. My dad did not allow her to engage in any meaningful activity to support the family. He didn't want a situation where nobody would take care of his children when she's away to business.
So, when he died things became very difficult for the family. We had to adjust to face the reality of situation we found ourselves.
Even before kicked the bucket, we have already exhausted all the monies he had saved to find a medical solution to his ailment. Unfortunately, he did not survive it. But then, a whole lot of money he saved for upkeep went down the drain.
That was where I found myself. But the local schools are also good. Initially, it was not easy for me to adjust to the reality of the situation I found myself. But then, it dawned on me that it was not a joke. Today, I thank God for the experiences I acquired while attending public schools.
It really helped me to cope with my new condition. It wasn't easy, especially facing harassment when I would be returning from school by some street urchins in Mushin. Yes, I coped with the new situation I found myself. I guess I'm a fighter and I'm still fighting till date.
What killed your father?
He died of stroke.
Since your father died, have you ever made any effort to contact his family in Poland?
Initially, we didn't know them and they didn't even know us too. My father was actually living in Holland. He only came to Nigeria where he met my mother and married her. We have never visited Poland, while my father lived. So, when he was sick, we did not know that he was going to survive it. We had to fly him back to Poland where he later died of stroke.
All this while, we couldn't communicate with his family, because none of us could speak Polish. But despite the language barrier, I went all out to locate them and re-establish a fresh contact with the family.
How did you locate them?
I located my half brother first and foremost through the help of the Red Cross on the internet. My father married a Polish woman who had two children for him. They are all late now. But I located my half brother before he died few years ago. That was how I got to meet with his relations in Poland.
We will like to know your mother's maiden names?
My mother's maiden name are Mrs. Lati Kazeem before she became Mrs. Lati Bach.
What's your impression with the way Nigerian movies celebrate ritualism, prostitution and blood?
You will be disappointed to hear that I don't really watch much of our local movies because each time I watch the movies.
I feel discouraged. I guess, you have a point here. I have heard about this kind of complain before now concerning how Nollywood movies display guns indiscriminately, blood and prostitution. Way back, I'm aware that the Censors' board embarked on a campaign to discourage the use of guns, blood and violence in our movies. I can't remember the last time I watched our local movies. I'm really pissed off given what has been happening in the industry at the moment.
We are not doing our movies the way our Hollywood counterparts are doing their own. I don't think anything good can come out of our movies that takes less than a month to be shot. I'm not in support of such unprofessional way of carrying guns and celebrating ritualism.
I don't know what the producers are trying to portray but I know also that it's not part of the culture here. We are not involved in gun carrying, gangsterism and so on. We should not engage ourselves in anything that will have negative effects on the society.
It's surprising to hear that you don't watch the movies you are part in the making?
Yes, I am, but this is the only way I think I can make a change. I now own a production outfit. I think, I can instigate a change in the industry through producing my own movies that would be of standard, devoid of any shortcomings and which I'm about to start very soon. My production outfit has just finished recording an epic soap opera, which we started since last year.
We have also finished editing the production. This is because I don't want to come out with any substandard production. This is how I think movies, soaps should be done in the industry. One should take his or her time to do a good job that would not be marred with irregularities. Production has various arms and if all these arms are not in harmony, the movie is bound to have lapses.
This is not good for the industry. That's why it has taken my own production outfit over one year to produce a soap opera.
I'm sure that when the soap finally hits the screen, the different will not be clear. It takes our Hollywood counterparts two to three years to produce their own movies. That's how I know I can make an impact in the industry.
How much are you worth in Nollywood?
To be honest with you, we are not making any money in the industry. We are only in this profession just for the love of it, hoping that actors/actresses will one day do a job and live on the fee earned from that job for the rest of the year.
But for now, acting puts food on our table and pay some of our bills.
And the leadership crisis rocking the Actors Guild of Nigeria?
I must say it's very unfortunate. But I'm kind of sitting on the fence. I don't support any of the factions because I'm not really happy with what has been going within the leadership of the guild. There's so much disunity in the industry and I don't think this should be happening at this point in time. I have been careful not to be drawn into the controversy.
With all these crises, we cannot have a better Nollywood tomorrow. A house divided against itself cannot stand.
Sexual harassment in Nollywood. Have you ever experienced it before, and what's your love life like?
I've never experienced sexual harassment in Nollywood. It has to do with the way you present yourself. I have never been desperate to getting any acting kind of role in movies. And I think it's when an actress is desperate to getting a role that she falls victim to sexual harassment. I have never experienced it.
Rather, I've just been hearing about it. It has never happened to me. But like I said earlier, it's desperation that brings about this indecent proposal to actresses.
Love life!
I'm in a relationship and I am happy. I'm not going to say more than that.
How much of Poland is left in you? Is it a personal decision not to get married?
I have a Polish woman's mentality. I'm not married, not because I have not been having marriage proposals. I have to look before I leap. It's not easy for me, having advances from (left, right and centre) different angles. If I don't get it right…. I don't want to have this record of divorce in marriage. I said to myself, 'If I gonna go into it, only once, till rapture comes'.
Let me put it that way. It's not as if I have not had some bitter experiences along the line, But I thank God that it's easy to break up a relationship, but not in marriage. I thank God for those past experiences, because if I have been married today, I wouldn't know what would have come out of it.
How many men have you disappointed, and how many of them have disappointed you?
May be, I will see myself as a bad girl because I have actually disappointed a lot of men. But I believe these men I disappointed were not good men.
It's not in my character to disappoint people especially the opposite sex. And again, it's better for me to end a bad relationship rather than hanging on to it and regretting thereafter, or ending up in marriage and recording a broken home. I guess, these are "bad men" that are not meant to come on board. If I disappoint them, I have no regrets whatsoever.
What of the men that disappointed you?
I think, I have never been disappointed before. I'm a realist and I like to face the reality on ground. I see the signs early enough and I cut it short. I don't allow myself for me to be disappointed.
What was it in your childhood that prepared you for what you are doing?
While growing up, I have always liked the showbiz industry. I actually thought I was going to become a singer first before becoming an actress.
As a child, I used to sing a lot and I watched a lot of detective movies. But because I'm a very shy person I could not get into it so well when my modelling colleagues like Kate Henshaw, Euchaira Anonubi and many others were veering into the world of make-believe. I never seen myself as somebody that could act.
You play a lot of bad girl role. What is the difference in make-believe and reality?
I guess, I'm a good girl. I don't having any dealing with evil people and anything to do to expose the bad people, I'm ready to do it with a passion, through acting.
Story by http://nollywoodgists.com