JONATHAN SILENT ON OIL SUBSIDY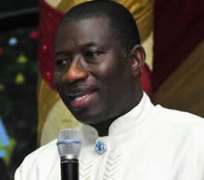 President Goodluck Jonathan was surprisingly silent yesterday on the planned removal of fuel subsidy as he unfurled a hefty N4.749 trillion budget for 2012. While presenting the 2012 Appropriation to a joint session of the National Assembly in Abuja, Jonathan who based the estimates on a benchmark oil price of US$70 per barrel, did not mention the controversial oil subsidy removal from where his administration had planned to re-coup N1.5 trillion for infrastructure upgrade and development in 2012.
It is not yet clear whether the President's silence on the oil subsidy issue means that he has buckled to pressure from the National Assembly, civil society groups and Nigerians at large not to remove the subsidy on oil.
The silence is more confounding even when the President has, at different fora, insisted that the subsidy must go in 2012.
To underscore the avowed commitment of the Federal Government to the fuel subsidy removal, the National Economic Council (NEC) meeting chaired by Vice President Namadi Sambo endorsed the proposal.
Addressing journalists after its meeting in Abuja on Monday, Anambra State Governor Peter Obi said the NEC had taken a collective decision to support the proposed removal of subsidy, disclosing that the President has produced a comprehensive document which spells out clearly how the reinvestment funds from the next year's deregulation will be channeled towards creating social safety nets and critical infrastructural projects to help the poor cushion the effects.
However, President Jonathan went ahead to announce the cancellation of waivers and concession, as from January 2012 on rice and wheat imports. This, he said, was to boost the local production of the commodities, as he gave a marching order to local rice millers to achieve 50 per cent domestic production.
'Effective December 31, 2012, all rice millers should move towards domestic production and milling of rice, as the levy of 50 per cent will be further raised to 100 per cent. Let me add here that no waivers or concessions will be entertained for rice and wheat importation,' he said as he presented the 2012 budget to the National Assembly.
Presenting the plan of his administration to the joint session of the National Assembly, Jonathan said that government planned to spend a total of N4.749trillion out of gross federally collectible revenue of N9.406trillion next year.
He was, however, specific that as 'from July 1, 2012, wheat flour will attract a levy of 65 per cent to bring the effective duty to 100 per cent, while wheat grain will attract a 15% levy which will bring the effective duty to 20 per cent.
'Similarly, there will be a levy of 25 per cent on brown rice to bring it to 30 per cent. In addition, to encourage domestic rice production, a levy of 40 per cent will be placed on imported polished rice leading to an effective duty rate of 50 per cent.
Although, he was silent on the controversial policy of fuel subsidy removal, he stated that government was expecting a significant growth in non-oil revenue sources.
Jonathan only promised 'that government will come up with policies to encourage investment in the petroleum downstream sector through liberalization so as to create jobs.
'With regard to the petroleum sector, the Federal Government is conscious of the need to bring the Petroleum Industry Bill (PIB) debate to conclusion so as to give investors the comfort and policy certainty that they require.
'My administration is determined to bring this matter to closure by engaging with all stakeholders and I therefore, call on the National Assembly to work with us in this regard.'
Being the first budget under the transformation agenda, he titled the appropriation, 'Budget of fiscal consolidation, inclusive growth and job creation.'
According to him, the 2012 budget was a product of long consultative process with key stakeholders on the development plans of government for the transformation of the economy in the walk to economic freedom.
He said that government had laid solid foundation for the priorities of the budget after a successful political transformation following the 2011 elections and the new economic programme contained in the Medium Term Fiscal Framework.
As a result, the President stated that government had established macro-economic stability, structural reforms and investing in priority sectors.
'Starting from 2012 for the medium term, we shall focus on cutting recurrent expenditure to sustainable levels through reducing waste, inefficiency, corruption and duplication in government.
'Recent reviews of public expenditures provide a basis for taking such measures. In order to make capital spending more effective, government is introducing a new template for analysing the financial and other factors including the economic rates of return, job creation, and environmental sustainability.'
The President assured that steps had been initiated to increase revenues by blocking leakages from various sources, improve corporate tax collection, and boost internally generated revenue.
As a result of these steps, Jonathan believed that the government should be able to earn a lot more revenue from the maritime sector, for instance.
Starting from 2012, he added that government will continue to prioritize its expenditures, while focus will be on the completion of viable on-going capital projects.
Rolling out the overviews of the budget, the President said that it was premised on a set of assumptions reflecting government's determination to maintain prudence in the face of continued uncertainties in the external environment.
'Accordingly, the budget is based on the following: Oil production of 2.48 million barrels per day (mbpd) up from 2.3mbpd for 2011; Benchmark oil price of US$70/barrel, a cautious revision from the US$75/barrel approved in the 2011 Amended Budget; Exchange rate of NGN155/US$; Projected GDP growth rate of 7.2 pre cent; and Projected inflation rate of 9.5 per cent.
He mentioned the privatization of the power sector based on the Power Roadmap which was unveiled last year, adding that government believed that the power sector can benefit from liberalization and privatization by attracting investors in the same manner as the telecommunications sector has done.
'We have also embarked on reforming our ports and customs and we intend to continue vigorously on this path so as to reduce the cost of doing business for our private sector actors. No longer are we going to be content for clearance of goods in our ports to take 3-4 weeks with attendant demurrage and costs while it takes 48 hours elsewhere.
' In this regard, I have set up a committee chaired by the Coordinating Minister for the Economy and Minister of Finance with a mandate to remove the bottlenecks at our ports and another cPommittee made up of private sector users of the ports to monitor implementation. We also intend to work hard to improve the infrastructure at the ports. Other impediments such as those arising from bureaucratic and costly paperwork will also be removed.
The President tasked Nigerians to take advantage of the recent passage of the Freedom of Information Act to monitor the activities of government, while acknowledging the role of the National Assembly and civil society in this regards.
He reiterated the fight against corruption as a collective responsibility, assuring that government will strengthen all anti-corruption agencies such as the EFCC and ICPC to enable them discharge their mandate.
To succeed in government efforts to transform the economy, the President said that the nation needs a vibrant civil service and a reformed public service for optimal service delivery.
'Our reforms can only endure if they are founded on strong systems and institutions that promote transparency and we are taking steps to strengthen ours.
'As you are aware, we have already resumed the publication of revenues allocated to the three tiers of Government as this will promote transparency and accountability in the management of public funds.'
On the domestic scene, the President observed that the economy recorded a robust growth in the first half of 2011, which underscores the resilience of the economy and the prudence of government economic policies.
'Our growth in the 2010-2011 periods has been broad-based.
The economy recorded impressive growth of 7.85 per cent in 2010 and 7.72 per cent as of the second quarter of 2011 compared to 5.2 per cent forecast for sub-Sahara Africa. Medium-term prospects are also bright, with real GDP growth projected to remain strong over the period.
President Jonathan gave allocations to some critical sectors of the economy as follows: Security – N921.91 billion; Power [including Bulk Trader, Nelmco, and Multi-Year Tariff Order (MYTO)] -N161.42 billion; Works – N180.8 billion; Education [excluding Universal Basic Education Commission, Petroleum Technology Development Trust Fund (PTDF) & Education Trust Fund] – N400.15 billion; Health – N282.77 billion; and Agriculture & Rural Development – N78.98 billion.
Others are: Water Resources – N39 billion; Petroleum Resources - N59.66 billion; Aviation – N49.23 billion; Transport – N54.83 billion; Lands & Housing – N26.49 billion; Science & Technology – N30.84 billion; Niger Delta – N59.72 billion; Federal Capital Territory Administration (FCTA) – N45.57 billion and Communications Technology  – N18.31 billion.
Government, the President said, will introduce further fiscal policy measures to support the development of the agricultural sector and in this respect he added that the duty on machinery and certain specified equipment for the sector will, effective January 31st 2012, attract zero duty.
'We will further look at supportive fiscal policies for the rice and wheat sectors to stimulate domestic production.
'Government is also introducing policies to encourage the substitution of high quality cassava flour for wheat flour in bread-baking. Bakeries will have 18 months in which to make the transition, and will enjoy a corporate tax incentive of 12 per cent rebate if they attain 40 per cent blending.
'With effect from March 31st 2012, importation of cassava flour will be prohibited so as to further support this programme.
'All equipment for processing of high quality cassava flour and composite flour blending will enjoy a duty free regime as incentive to bakers for composite flour utilization.'
It is common wisdom that the best way we can grow our economy and create jobs for our people is for us to patronize Nigerian-made goods. This is why we are introducing enabling policies to drive this process. In this regard, we are introducing fiscal policy measures that will encourage the purchase and utilization of locally produced commodities.