Eddie's Rumpus by Zik Zulu Okafor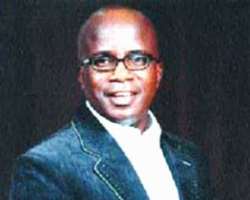 Saw this article and loved it!! Big ups to my man Zik Zulu Okafor
"Nollywood, Nolly What?" is the title of Eddie Iroh's surprise rhetoric of Monday, May 25, 2009 on the back page of THISDAY. As a former Director-General of the Federal Radio Corporation of Nigeria (FRCN), and a writer, one expected Iroh's critique of Nollywood to be pungent but professional. Sadly and with due respect, Iroh chose, albeit unwittingly, to elevate himself to the chair of the club of quasi-literary figures, armchair critics whose criticisms of Nollywood can, at best, be described as poetics of pseudo tradition. In concise terms, Iroh's piece offers decidedly a mixed bag of campy humour and the hilarious tone of a farcical comedy as it lacks knowledge of the tempo of motion picture development around the world and specifically the colour and culture of Nollywood.
But let us even begin with the curious premise upon which Iroh's stinging hypothesis is based. This is the failure of Nollywood films to win major awards at the African Movie Academy Awards (AMMA) which held early this year in Yenagoa, Bayelse State, Nigeria. For this author of 27 years, this failure shows that Nollywood is an amateur video enterprise and not a film industry, a triumph of quality over quantity (for those African countries whose films won), and a victory of creativity over commerce.
The question that even an undiscerning mind would easily ask is this; must Nollywood films win major awards every year? Wouldn't that turn AMAA into a Nigerian thing? Nollywood films have dominated the awards in the last four years, winning all the awards in the main categories. Wouldn't it then look suspicious, even manipulative, if AMAA inspired and produced by Nigerians, is dominated year in, year-out by Nigerian films?
May be we need to ask Iroh whether Hollywood has also failed woefully simply because Slum Dog Millionaire, a film produced in India and acted by an all Indian cast, won all the major awards at the Oscars this year.
Let us even bring the subject closer to Iroh. Professor Wole Soyinka, our renowned writer, has been writing since the late 1950s. Today he has the Nobel Prize for Literature as a worthy reward for excellence. Ben Okri with The Famished Road won the Booker prize. Chimamanda Ngozi Adichie, who started writing only "yesterday", also won a major international award, the Orange prize for fiction with her novel Half of a Yellow Sun.
However, Iroh, whose first work was published in 1981, is yet to win any major prize, not even the local Association of Nigerian Authors (ANA) award. Among his many obscure books, only Toads of War, has succeeded in being a literature text in a second generation university. Does this then make Iroh's books amateurish? Better still, does that make them an abysmal creative disaster?
Again, I dare to say with respect that Iroh exhibited a profound lack of knowledge of trends in motion picture development internationally. To begin with, even Hollywood is at present shifting towards digital video production, eager to dump the cumbersome celluloid tradition. Eminent directors/producers that include Steven Spielberg, Spike Lee and George Lucas among many others have produced movies on digital videos.
Besides, Nollywood does not have to graduate into celluloid culture as Iroh envisioned. The truth is that Nollywood movies are what we call FUBU; produced FOR US BY US. It is the first time that we are telling our story in our own way, by our own practitioners through our own medium and ecstatically embraced and accepted by our people. Nollywood may not have told the stories the best way possible, but it is better for us to tell our story, even if poorly, than for outsiders to tell us our story the wrong way.
Iroh would want Nigerians and the world to believe that Nollywood is for idle minds, yet on November 7, 2007, far away in the United States, Hollywood's own home, eminent professors in Humanity, Film and Theatre first class scholars, professors of Anthropology and Psychology under the auspices of the Global Media Research Centre gathered at the Southern Illinois University to dissect the mystery called Nollywood. Some of the pioneer practitioners of the industry that included Joke Silva, Francis Onwochei and Madu Chukwendu sat for hours at this elite rendezvous to answer questions on the emergence and phenomenal growth of Nollywood. Yet for Iroh, Nollywood deserves no credit of any kind.
Iroh rightly observed that Nollywood movies "came at a time of cultural famine, when there were no cinemas, no theatres and very little avenues for creative outlet and enjoyment". This statement, to say the least, is a creative castration of Iroh's own generation to which belongs Ola Balogun and Eddy Ugbomah that he mentioned. If that generation lived up to its creative calling, would there have been that entertainment lacuna, the "creative famine" that Nollywood sprang to fill? If Eddie Iroh's generation are the immortals of our film industry, how is it that some of them ended up as quasi-musicians entertaining less than quality audience in scanty restaurants scattered all over Lagos.
He consigned Nollywood actors and directors without exception into the trash bowl of amateurs. Yet Nollywood parades men such as Olu Jacobs, who has starred and played major roles in Hollywood films that include Slave and Dogs of War; Lari Williams, one of the first blacks to perform at West End; Tosan Ugbeye, who has performed at Broadway, US and in several of Soyinka's plays at home and abroad; Joke Silva, a veteran of both stage, television and film. Still Nollywood parades other thoroughbred professionals that include Tade Ogidan, Francis Onwochei, Kingsley Ogoro, Chico Ejiro, Richard Mofe-Damijo, Stella Damasus, Kate Henshaw, Genevieve Nnaji, Stephanie Okereke, Zeb Ejiro, Amaka Igwe, Charles Igwe, Mahmond Ali-Balogun and Lancelot Imasuen among others. Unknown to Iroh, most of these people trained in Theatre Arts, Film, Cinematography and Dramatic Arts in some of the best institutions both in Nigeria and abroad, some having both local and international awards for their roles in Nollywood. Some of these people have travelled across the entire five continents of this planet, on invitation to give lectures, attend seminars and workshops on the astounding subject called Nollywood.
This much castigated Nollywood has produced stars, who have become matinee-idols in other African countries. In 2007, over 2000 fans stood for hours at the airport in Free Town, Sierra-Leone to catch a glimpse of Genevieve Nnaji and ran after her convoy over a stretch of 10 kilometres. In the same manner, over 20,000 fans gathered at the stadium in Free Town just to see the little men - Osita Iheme and Chinedu Ikedieze - popularly known as Aki and Paw-Paw.
At the Transcorp Hilton in Abuja, Nigeria, in early 2008, Justices of the Court of Appeal and Supreme Court that came for a conference from East Africa practically abandoned their breakfast tables when they saw two Nollywood stars. They confessed that their people are almost addicted to Nollywood films. Yet some discerning writer would not see anything good in Nollywood except "shallow storylines, poor scripting, one-dimensional acting …… inept directing…."
This writer is not in any way saying that all is well with Nollywood. Indeed some story lines and plots in our movies are sometimes pathetic. But same also applies to Hollywood and Bollywood stories. There are both good and bad actors in Nollywood, but this also is universal. No doubt, the quality of sound, pictures, and cinematography are still far from best practices, but Nollywood is on the march and needs only time.
Iroh touched a vital area in our films and that is props. He derided Nollywood for using toy guns and poor props. While it is true that toy guns may have been used in some films, Nollywood producers have long past that stage. However Iroh needs to be enlightened on the challenges of the producer in Nigeria. In the US, Hollywood producers have access to their airports, presidential jets and arsenal. American government recognizes the importance of film as an instrument of propaganda. In Ghana, Ghanaian producers need to pay only $100 (N16,600) to use their airport and they can legally acquire arms from the police and the military, free of charge.
But in our dear country, Nigeria, a producer has to pay N1 million to use the airport. Still you will need to pay a choking amount, up to N150,000 and then grease many palms just to hire little arms for a few hours. Does our eminent Iroh think a producer would opt for a "plastic gun" if he had access to the real thing?
Despite its obvious short comings, despite its constraints, Nollywood, like wind of silent mystery has forced its way into international reckoning. Contrary to Iroh's un-researched opinion that Nollywood movies are only popular among Nigerians in the Diaspora, Nollywood movies have dominated African countries and are popular in the Carribeans and North America.
A tragic flaw in Iroh's purgative commentary is its total lack of appreciation for anything in Nollywood. Here was an industry inspired by one man, Kenneth Nnebue, whose movie, Living in Bondage, produced by an ambitious young man, Okey Ogunjiofor, stirred the soul of Nigeria. Seventeen years after, Nollywood, which emerged from the bowel of Nnebue's film, employs about five million Nigerians from CD-producing factories and importers, through video clubs, CD distributors, whole sellers, retailers, movie equipment dealers, marketers and movie practitioners. It is the second highest employer of labour, next only to the Federal Government. Indeed, Nollywood is today valued at over $2.3 billion, (about N330 billion) including revenues from broadcast and Internet rights. All these achievements are without any input by corporate Nigeria and importantly, without any significant government policy to enhance practice and encourage growth.
The undiluted truth remains that in spite of its clear shortcomings, Nollywood has revved the engine of change and spirit of a new generation of Nigerians, a generation with a robust confidence in simple dreams and unshakeable faith in small miracles.
This confidence and faith will strengthen Nollywood in its long walk through the Golgotha of professional odyssey and literary immolation by critics such as Iroh. But ultimately, at the end of the Golgotha is a glowing light of a new dawn ... for Nollywood!
• Okafor, a Nollywood practitioner and scholar, wrote from Lagos
Posted by Bola Aduwo
Story by http://nollywoodgists.com