Nigeria President Proposes 4.749 Trln Naira 2012 Budget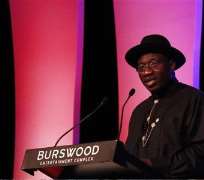 Nigerian President Goodluck Jonathan presented a 4.749 trillion naira budget to the national assembly on Tuesday, in what he said would be the start of prudent financial planning, despite spending rising from this year.
Jonathan said spending would rise from the 4.48 trillion in 2011 but recurrent expenditure would fall to 72 percent of the budget from 74.4 percent this year as the government focuses more money on capital projects.
"This budget is a stepping stone to the transformation of our economy ... we cannot subject the wellbeing of Nigerians to unnecessary risks, we must therefore protect ourselves by planning our finances prudently," Jonathan told lawmakers, dressed in his trademark kaftan and fedora hat.
The fiscal deficit would be reduced to 2.77 percent of gross domestic product from 2.96 in the 2011 budget, Jonathan said.
He told lawmakers the 2012 spending plan was based on a benchmark oil price of $70 a barrel and production of 2.48 million barrels per day. The output projection is higher than expected and leaves little room for potential production outages, which have been common in the past.
"While markets may initially react positively to the announcement that the fiscal deficit is likely to narrow further as well as the slight reduction in the proportion of recurrent expenditure, we caution that there are still significant concerns," said Razia Khan, head of Africa research at Standard Chartered.
"Spending has been raised further during uncertain times globally ... leaving little wriggle room for the budget in response to any downside uncertainty that may impact on domestic (oil) output," Khan added.
Africa's most populous nation puts revenue above the benchmark price into a savings account.
The Excess Crude Account (ECA) has been drained in recent years, despite high oil prices. The government removed $2 billion from the ECA for "various projects" last month.
The budget proposal assumed an exchange rate of 155 naira to the U.S. dollar, average inflation of 9.5 percent and GDP growth of 7.2 percent. Inflation is currently running in double digits and the naira is trading at above 160 against the U.S. dollar.
REUTERS