I'LL PROVIDE A LEVEL-PLAYING FIELD FOR EVERY MEMBER SEEKING PDP TICKET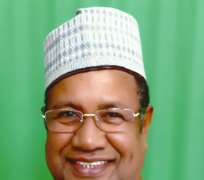 Sen. Abba Aji
Ahead of the  Peoples' Democratic Party national convention slated for next February where a new  set of national officers is expected to emerge,  party chieftains interested in leading the party have been declaring  their interest in the leadership of Wadata Plaza, the national secretariat of the ruling party in the country.
One of such contenders  for the office of national chairman  is Senator Mohammed Abba Aji,  former Special Adviser to the President on National Assembly Matters. An urbane politician from Borno State in the North- east geo-political zone, Senator Aji in this interview with journalists in Abuja offers an insight into his vision for the party. Daily Sun was there.
Could you let the readers into whom you are?
I am Senator Mohammed Abba Aji.  I am 60 years of age.  I turned 60 last August.  I am a father of five children and I am happily married.
I have had what I can call my share of public service.
I have served in government for over thirty years, both state and federal before I went into politics and I was elected senator and I served for four years after which I was appointed as Special Adviser to the President on National Assembly Matters and I served in that capacity for three years which ended last June.
The convention of your party, the PDP, is coming up in a couple of months or thereabout where the position of National Chairman will be contested for. Is it true that you are interested in the position?
That is right.  I am interested in this position.  I have yielded to pressures and calls by members of the party nationwide for me to contest to lead the party.  As a result of these overwhelming calls, I considered it as a national call to duty and I have now availed myself.  So, I am going to contest in the election.
What are you doing to actualize this aspiration?
We are currently engaged in wide ranging consultations with stakeholders of the party across the country; and, we are very much encouraged by the responses that we are getting and you can see that we have this office here; and we are continuing with our consultations and everywhere we go, we are encouraged by the responses that we are getting from very senior stakeholders of the party.  So the call that has been made by the rank and file appears to have the endorsement of the leadership or senior stakeholders of the party as well.
How would you describe the PDP, your party today and what kind of leadership would you recommend for it in this era of transformation?
PDP is not like other parties in Nigeria because it is the largest; it has the most of the 'who is who' of this country; I think you can only equate it with the African National Congress, [ANC]  in South Africa.
But in terms of the number of elected officials, the number of persons elected on the platform of the PDP by far exceeds the number of persons elected on the platform of the ANC.
So, when we say the PDP is the largest party in Africa, it is in indeed the largest party in Africa.  And because of its size, it would also have its share of prospects and problems, strengths and weaknesses just like any other organization.  But I think it has evolved well because it is still evolving.  Unlike the ANC, the PDP is just in its second decade now.  So, its evolution is still in progress.
When you look at it from a long term point of view, you can even say that it is still formative.  Most of its evolution is still formative and therefore you would still expect some formative challenges, the greatest of which, in my view, is either the party's failure to cater for all interests which is impossible or its membership expectations which by far exceed the capacity of the party to serve them.  You see, you can't please everybody but you can enact rules and laws that you
apply uniformly.  That is the only way that you can come near satisfying everybody.  If you enact rules and laws and you require compliance, then you will provide a level playing field. So that is the only way that you can come near to pleasing everybody.  So, these are the challenges of the PDP.  This means that reconciliation is the moral ground on which we are standing and is one of the main things weare aiming to achieve in the PDP when I become chairman.
You are from Borno State.  Can you tell us in a nutshell your contributions to the development of the PDP in the State?
In Borno State, I was elected to the Senate in 2003. While in Senate, I sponsored almost twenty bills and motions. Talking about the specifics of my involvement at the grassroots level in Borno State, I have been for most of the time a member of the state caucus and the executive committee and we have contributed immensely.
There was a time when we had quite a few elected officials on the platform of the PDP and then we lost those.  But now, from a position of zero, we have four National Assembly members, six state House of Assembly members; and the Tribunals have annulled six others where we have not won and we are going for re-run election.  If we win those, then it means we will double those in the House of Assembly.  We have reconciled people in Borno State and I played a critical role in this.
As one of the leaders of the party, I have sponsored and assisted many members of the party contesting for elective offices to victory. I have also helped in providing assistance to defray the cost of running the party as well as consolidating its position as a political force in the State.
The last primary of your party appeared to be a bit fractious and there were many complaints.  If you become chairman, what improvements would you make to ensure that at the end of your primaries, party members are happy?
Party members' happiness and acceptance of the outcome of any party process or decision depends on their individual interest and groupings. You see most people get or feel disillusioned when they lose. But we will endeavor to reconcile the family, and forge ahead again.
As you rightly pointed out, the party is in its second decade of existence, but people still view the party in the negative light.  Why do you think this is so and how do you intend to improve the image of the party in the eyes of the public?
You see because the party is big and because it is controlling most of the states and also because most people do not understand our federal system, the federal government is blamed for everything. If however all our leaders and government institutions carry out their role and implement their programmes to provide necessary amenities and infrastructure to the people, I am of the view that these negative feelings and opinions would be a thing of the past.
Secondly, we should not forget that we are in a competitive political system where though the PDP is in power, it is not the only political party. Opposition parties and their members could be jealous of the party and spread falsehood hoping to cash on such feelings to take over power. We shall continue to do our best as a party and in government to earn the respect of Nigerians.
You were in the private sector as director of some blue chip companies. Are you happy with the role of the private sector in the national economy in view of the problems of the economy?
We live in a new world order where the private sector is being encouraged to be in the driving seat of economic development, that is to have full participation of the private sector in all spheres of economic development.  So, yes, we have a relatively small private sector that unfortunately still depends, to a large extent, on the public sector for patronages and things like that. But we will continue to encourage the participation and the independence of the private sector through lesser government participation in the commanding heights of the economy by making Nigerian business context more conducive and less expensive to do business in.  So, we will certainly encourage and support all government policies that are geared towards that; and even the PDP manifesto encourages such, hence our President's transformation agenda.
What role do you think the party under you can play to assist the government in the area of national security?
PDP as a party, if you look at our manifesto, has committed itself to, among other things, the protection of lives and property. In addition to that, there is the party's commitment to social security and social justice and there is no social justice without social security and there is no social security without security of lives and property.
Also because of the close correlation between unemployment and insecurity, I will design measures that will encourage PDP government at all levels to make employment generation their high priority.
People have a lot of negative things to say about past national chairmen of the PDP. What will you have to say about them?
Personally, I salute them because it is not an easy task to have kept the party winning all the presidential elections, majority of national assembly seats as well as majority of state governorship positions for the party since 1999. So they must all get credit for having achieved this.
In all efforts that I will make to add to their achievements, I will continually draw from their individual and collective wisdom.