Olympus Ex-CEO To Meet MPs, Push For Japan Reform: Source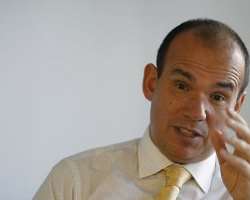 FORMER OLYMPUS CHIEF EXECUTIVE MICHAEL WOODFORD SPEAKS DURING AN INTERVIEW WITH REUTERS IN NEW YORK NOVEMBER 30, 2011.
The whistleblower in a $1.7 billion accounting scandal at Japan's Olympus Corp, ex-CEO Michael Woodford, plans to meet ruling-party lawmakers in Tokyo this week as he lobbies for reforms to Japanese boardrooms, a source said on Monday.
Woodford, an Englishman who was sacked as chief executive by the firm's board two months ago, arrives in the Japanese capital on Tuesday on a mission to persuade employees and investors that he is the right person to return to his old job and get the firm back on track.
The camera and endoscope maker, founded just after World War 2, has been engulfed by one of Japan's worst accounting frauds, a 13-year cover-up of investment losses which has revived calls for reforms to check the power of executives in the nation's boardrooms.
Woodford plans to meet the lawmakers, members of a panel on corporate governance reform within the ruling Democratic Party of Japan (DPJ), on Wednesday afternoon, the same day as a much-anticipated deadline for Olympus to iron out its accounts, said the source familiar with the former CEO's itinerary.
He will earlier in the day meet opposition Liberal Democratic Party MPs who have set up their own taskforce to consider corporate governance reforms -- changes that are being resisted by the country's biggest business lobby.
Woodford was sacked by unanimous vote of the Olympus board in mid-October, even though it included three outside directors.
He has told Japanese magazine Bungei Shunju that if he regained his old job, he would push for a U.S.-style system of strong external directors.
But he faces a battle with current management to return to the helm of the company. Its existing board plans to resign, though not before it picks its own slate of successors.
Olympus is preparing to file its July-September earnings by Wednesday, a necessary step for the disgraced firm to remain listed and to boost its chances of surviving as an independent firm. It has lost almost half its market value since the scandal broke.
It plans to hold a briefing on Thursday to explain the results, after admitting to a $1.7 billion scheme to hide investment losses stretching back as far as 1998.
A planned press conference by Woodford in Tokyo on Wednesday has been switched to Thursday after the Olympus briefing, the source said.
Olympus shares hit a six-week high on Monday after it reiterated its intention to meet the Wednesday deadline, closing up 7.79 percent at 1,300 yen.
Investors will be looking at the overall impact of accounting restatements on Olympus' balance sheet and whether this could put the company under pressure to raise fresh equity.
REUTERS