It's difficult keeping a man, says Nigerian-born US actress/producer, Chisom Oz Lee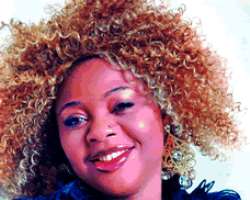 Chisom Oz-Lee, the Nigerian-born US actress/producer, unknown to many of her fans, was recently in the country to shoot two new movies. While in Nigeria, during her two-week visit, the widowed-mother-of-four, worked with Emem Isong alongside some Nollywood greats. With four movies to her credit, as an international film producer, the Anambra born thespian recently made history, with the showing of Lost Maiden, one of her films by the UN at their headquarters.
She happily described the feat, as one of the glorious moments in her entire entertainment career, which started here before her relocation. Speaking with us, after a three-year break, the unrepentant widow, who's also a registered nurse in the US, opened up on what brought her home, challenges, men and marriage as well as other germane issues.
The last time we saw you in Nigeria, was three years ago, what brought you home again?
I came in recently to star and co-produce two movies, back to back with Emem Isong. I was the executive producer of both movies and also acted in them. We entitled one of the moves, Mortal Attraction and we shot for 14 days with big names likes: Ramsey Noah, Uche Jombo, Desmond Elliot, Monalisa Chinda, myself and several others. My role in the movie was that of a mean sister in law, it was also a very challenging role. I was full of wickedness, frustrated and vindictive in that role. In brief, the movie vividly captures the plight of widowhood and how your late husband's family members treat you. In the movie, the innocent widow was so much maltreated that God sent an angel in human form to save her. Its actually a true life story and little bit of it related to me, because I'm also a widow. I've been a widow for close to 10 years now.
How has life been treating you as a widow?
It's not been easy, but thank God I'm a very hard working person, trying always to be very independent of men, in laws and other distractions. So, I work hard for me.
Thank God, I've been surviving and can afford my basic needs. I have been around for two weeks now and will be going back soon. (Left last week).
In the US, where you live, what do you do there?
I'm a professional and registered nurse, based in New York, US. I've lived in the US, for over 13 years.
What's the nexus between acting and nursing?
People always wonder about the connection and how I cope with stress coming from both tedious jobs.
Nursing for me, is more like a charitable work, being able to help the sick and those dying, while acting is more like a passion for me. In essence, I can't do without each, because each part of my body yearns to do both works. I've also tried to marry both professions in such a way that they have complemented each other as well. My last movie, Lost Maiden, which was hugely premiered in the US at the UN, is still a reference point. We are planning to release it here this December. At the UN, they found the theme of the movie very topical and relevant.
The movie talked about female circumcision and our right to say no to it and other forms of ill treatment meted out to us in the name tradition and custom. Mind you, I wasn't paid, it was purely an NGO thing, public education, and several institutions over there are now approaching us wanting to use the film as research works and materials. Its an educational movie. I was so happy when the movie went to the UN. For these new movies, we are planning to see if we can release them this December, though no title yet for the second movie, but that will very difficult. My producer, Emem Isong and I, are still discussing it. Hopefully, by January 2010, it will be out, because I want to commence the shoot of another movie that same period in the US.
What year did you produce your first movie and what was the title?
That was in 2006, it was entitled: In Strangers Arms. I brought virtually all my crew from the US, to shoot this movie; even my director was flown in from the US.
What and who lured you into Nollywood?
Actually, my passion for Nollywood didn't start in 2006, when I produced my first movie, it was something I've been nursing and waiting for the right time to launch it. Before the advent of Nollywood, I had been around staging plays and dramas with some of the pioneers of the industry, before I left for the US. While leaving for the US, I had it at the back of my mind that at the right time and the right resources, I would come back, which is what I'm currently doing now.
But as somebody operating from the outside, what would you say are the major challenges you often encounter when you are around to lense a movie?
For me, electricity has always been an issue, each time I'm home and working on a set. The noise from the generator gives us sound problems in our movies. Another challenge is getting the right equipment at the right time. Most times, you have to wait for days for particular equipment. These are all hindrances. In the US, it's a different ball game. Traffic is another big challenge. Most times, you spend the whole day navigating through traffics trying to get your cast and crew together, its terrible. These are the major challenges I face each time I come home to shoot my movies. Working with Emem Isong as a producer on this set made everything so smooth for my crew and I.
Any plans of relocating to Nigeria fully as an actress / producer?
Truth is that there is no place like home, eventually I will be back to contribute my quota, but not now. I love my country and its people, no matter what people say or think about us. In fact, each time I come home and ready to go back, my heart skips, because my staying abroad is not really a choice, but a necessity. I love to be here all the time, but I just can't for now.
How strong and acceptable are Nollywood movies in New York, where you reside?
When it comes to Nollywood in the Diaspora, Now York is the strongest place, and then followed by Maryland, Texas, LA in that order. We have built markets for Nollywood. If any movie is released there now, you're sure of getting nothing less than 5000 sales. We've been very supportive of New York, unlike other countries, where they either rent or bootleg our movies, because, they don't have markets there. We are already forming bodies and a lot of unions there to protect Nollywood and make sure that our filmmakers survive. We are also trying so hard to fight piracy in the US. My four movies, namely: In a Strangers Arms, Lost Maiden, Mortal Attraction and the yet to be entitled one are being closely monitored.
Another challenge I think we have in Nigeria is scripting, we should improve on our stories and how we tell them. We have a lot of stories to tell in Nigeria, but most of our scriptwriters are fond of always copying foreign storylines, originality is lacking in most of our stories, which is very bad and sad. Good stories thrill me a lot; again we do not have the technical ability to produce some kind of films. It is so because an average filmmaker does not have the financial resources to do it like his foreign counterparts. Badly, the government has turned its back on Nollywood, and they know very well the millions of job opportunities that Nollywood had created and still creating for the nation on a daily basis. Government should adequately fund Nollywood, so that it does not die. We all know that the Nollywood of today is purely driven by individual efforts and funding. And no matter how we try, it can't get 100% better, until the government comes in to help fund and support us.
Like how much was expended in shooting these two big budget movies?
We spent a lot for both movies; a rough estimate should give us something in the region of N12m per picture. Funny enough, I have not made money from my previous works, but that has not deterred me, because I have an undying passion for Nollywood. With time, I hope to also make money because its an investment. I will never be discouraged, no matter what happens.
How did your path and that of Emem Isong cross and what was it like working with her?
She's been my good friend for over five years and we worked together in 2006, on the set of Lost Maiden. She produced Mortal Attraction for me, and we had fun on set working together.
We would like to know more about you and your background?
I'm Chisom OZ-Lee, from Oraukwu in Anambra State. I'm a widow and a registered nurse living and working in the US. I'm also a filmmaker cum actress; I live with my children and my mum in the US. I'm an English Literature graduate from the University of Nigeria, Nsukka (UNN).
As a beautiful widow, how come you have never thought of re-marrying, are you scared of men or men are scared of you?
I think all of the above are part of the reasons. For me, remaining a widow is not bad.
But how do you cope with men?
I cope well with them, for me; there is nothing difficult in handling them.
Any special man in your life currently?
I have friends, besides, I 'm a very busy person, meaning I have plenty things to do. Mind you, it takes time and energy to keep a man. My love life is empty and I love it that much. My husband died while battling Cancer of the Leukemia. His death was what led to my going into nursing.
Story by http://nollywoodgists.com