Toyota halves profit view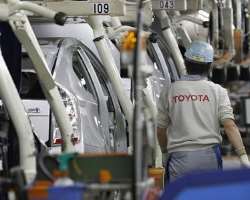 AN EMPLOYEE WORKS ON AN ASSEMBLY LINE OF TOYOTA MOTOR CORP'S HYBRID CAR ''PRIUS'' AT ITS TSUTSUMI PLANT IN TOYOTA, CENTRAL JAPAN DECEMBER 9, 2011. THE PLANT PRODUCES MORE THAN 2,000 VEHICLES A DAY, ACCORDING TO THE COMPANY.
Toyota, set to lose its crown as the world's top-selling automaker this year, more than halved its annual profit forecast to $2.6 billion, reeling from a strong yen and Thai floods that severed its supply lines.
Toyota Motor Corp's (7203.T) inability to make enough cars - production was also ruptured by the earthquake and tsunami in Japan in March - is expected to see it overtaken in sales this year by General Motors Co (GM.N) and probably Volkswagen AG (VOWG_p.DE).
While Toyota is poised for record production next year as it rebuilds depleted inventories, the yen's persistent strength against virtually every major currency means profit recovery will continue to be slow given its huge exposure to exports.
"Toyota is hitting a trough," said Cho Soo-Hong, auto analyst at Woori Investment & Securities in Seoul.
"Its market share will recover next year with output normalization and new model launches, but I don't expect too much from Toyota's earnings as the yen is expected to remain strong because of appetite for safe-haven assets."
Japan's top automaker expects operating profit to fall 57 percent to 200 billion yen in the year to end-March, well below a consensus forecast of 419 billion yen in a survey of 23 analysts by Thomson Reuters I/B/E/S.
The company's previous forecast of 450 billion yen, issued in August, was withdrawn last month after Thailand's worst floods in 50 years cut off the supply of parts to Toyota's factories in 10 countries. It said the floods would effectively cost the company 230,000 vehicles in lost production this business year.
With floodwaters having receded and recovery work under way at Thailand's industrial parks, Toyota has said its production has returned to normal in most regions, leaving just Thailand and South Africa operating at reduced rates. It said on Friday Thai production was expected to return to normal this month.
Toyota projected an annual net profit of 180 billion yen, down 56 percent from last year and a sharp cut from its previous forecast of 390 billion yen.
LOST CROWN
The Thai floods and the March earthquake and tsunami hit Japanese automakers particularly hard due to their dominance at home and across southeast Asia.
Toyota said the floods accounted for 120 billion yen of the downward revision to operating profit, while the yen's strength, which makes exports less competitive and eats into overseas profits when brought back to Japan, cut another 190 billion yen. These were offset by 60 billion yen in profit-boosting measures.
Once the supply issues are repaired, Toyota's new models, including the Camry sedan, are set to pose tough competition for rivals such as Hyundai Motor Co (005380.KS) next year, analysts said.
But Chief Financial Officer Satoshi Ozawa expressed deep frustration with the firm yen, which Tokyo has failed to weaken through intervention, warning that current exchange rates could threaten Japan's very foundation as an export-driven economy.
"(The revision) is partly because Toyota's exposure to currency swings is big, but I think it also brought to light the severity of the crisis Japan is in, because the country is founded on its export strength," Ozawa told a news conference.
Toyota has committed to building 3 million vehicles a year in Japan by improving its cost structure and selling more cars at home, accounting for about 40 percent of its total global output. With more than half of that bound for export, its parent-only operating loss forecast ballooned to 530 billion yen, from a previous outlook of 370 billion yen.
Ozawa said the strong yen was forcing Toyota to raise car prices significantly in some markets, even if that dents sales volumes. Toyota expects to sell 7.38 million vehicles worldwide in this financial year, fewer than the 7.6 million it flagged in August.
"It will be difficult to keep domestic production if the dollar stays below 80 yen," said Yasuo Sakuma, portfolio manager at Bayview Asset Management.
"When the dollar fell from 100 yen to 90 yen, or from 90 yen to 80 yen, the main question was whether Toyota can cope with the pace of the yen's strengthening. But when the dollar is below 80 yen, the problem is the absolute level of the dollar. Given this, we just can't buy Toyota shares."
Those shares closed down 0.4 percent at 2,636 yen before the forecasts were announced. The stock has fallen 18 percent this year, in line with Tokyo's main Topix index .TOPX, and last month touched a 15-1/2-year low. Shares in Honda Motor Co (7267.T) are down 24 percent year to date.
Under a new business plan, Toyota is aiming for operating profit of at least 1 trillion yen and an operating margin of 5 percent over the next year or so, assuming parent-only sales of 7.5 million vehicles and a dollar of 85 yen. The dollar currently trades at 77-78 yen.
Ozawa said the European debt crisis posed another worry. As well as dampening demand in the region, he said, the crisis could prompt banks to pull money out of emerging markets and touch off a recession there, which in turn could also weaken those countries' currencies against the yen.
"The latter two factors would have a very big impact on our operations," Ozawa said. "We're watching developments very carefully ... as we compile our plans for next year and the year after."
Among Japan's automakers only Honda, the hardest hit by the series of natural disasters, has yet to come out with annual guidance. The chief financial officer has said he expects to provide annual forecasts by late-January.
REUTERS