All Ego,No ego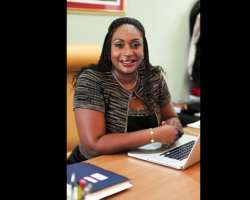 Private Actress
Ego Boyo has a certain calmness about her; from her voice to her mannerisms and soft features, it's quite easy to see why the camera so loved her. Years into her career, Ego Boyo noticeably vanished from the screen, choosing instead to pursue her dreams of working behind the camera. As a wife and mother of two, she values her privacy and reminisces on the days when the spotlight of celebrity was a little too much for her to handle.
"I never really liked acting. I started acting because I had finished school and somebody had offered me a role in a soap opera. And you know when you finish school, haven't got a job yet, anything sounds exciting and I was young. So I took the leap. But then I found that I didn't really like it - not the work part of acting, but all the attention I got from it - that was the problem."
Having your life displayed on the pages of soft-sell magazines and people constantly prying for more information, is what drives actors and actresses over the edge the world over. "Then it wasn't even as bad as it is now," she explains. "You go out and people are talking about you doing this and even if you weren't its always one story or another. Being in the tabloids, every aspect of your life gets dissected and people want to know everything. As I said, it wasn't even as bad as it is now. I can't even image if I were just starting out in this era, I would have gone mad! I guess everybody is different. Some people thrive on that but I didn't. I just wanted my privacy."
The Power of the Lens
"I don't miss the acting part of Nollywood." She admits it really was not a difficult choice for her to make, leaving acting. "As an actor, your power is limited. The producer approaches you and you act your part, you get paid and you leave. When the job is over, you are done. As a producer, or director you have more power and control. Your job remains all through, from before the project is born, all the way through till the end and I like that. But as a producer, I get to choose what sort of films I want to do, who I want to work with, when I want to work and what I want the script to become, so it is more interesting."
Temple Productions
Since starting her production company in 1998, Ego Boyo is still one of the few female producers in the country. Her company has placed quite a bit of experience under their belt, what with producing social interest documentaries, videographies, wedding videos, and eventually graduating to feature films.
In 2008, she produced 30 Days, the critically acclaimed, still un-released, feature film starring a host of Nollywood A-listers: Genevieve Nnaji, Najite Dede, Chet Anikwe and Kalu Ikeagwu. Unfortunately, owing to piracy and distribution issues, the film was only seen at their premieres in the UK, U.S and Lagos. "Over the years I have found with the piracy and not having a proper distribution channel, we ended up throwing good money away because we were not making back as much as we should."
Right now, she focuses on perfecting the craft, choosing to concentrate on corporate work in order to make enough money to make the kind of films to the scale and size that she feels would really bring the story to life.
"There are so many people within the industry who have got a clue; it's just that everybody is so spread apart. We need to come together and present a united front, because nobody will take you seriously until you start to project that serious image. It has to be seen as a business rather than a bunch of crazy people doing a bunch of crazy creative things.
"Companies are coming in now saying they want professionalism; they want a better business structure. They want to work with individuals who have good reputations and have an understanding of the legal aspect of the industry. A while back, we did a film and featured a lot of foreign music and we didn't even think about copyright issues.
If we ever took that film anywhere out of Nigeria we would be in trouble because from the first five seconds someone is going to pick up on it, slam down on it and we will be in court forever. So all those little details add up and this example is just one minor aspect, but you have to take so much into consideration from the business and legal angles involved in making a film. It's all about the quest to increase the level of expertise in each job and industry one happens to be working in."
Checkmate
On a quiet day, she likes to relax and hang out with her son, maybe even catch a movie. "I like to go to the cinema early on Saturdays because it's relatively empty and you don't have to deal with people coming in on their phones, or commenting at the screen."
We anxiously await Ego Boyo's next project and the blossoming of the film production industry within Nigeria.
Story by http://nollywoodgists.com