Nollywood has taught me the good, the bad and the ugly - Cynthia Agholor, Nollywood actress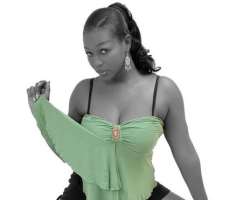 Sexy, sultry and well-endowed Nollywood actress, Cynthia Agholor has her hands full at the moment. Starting out at an early age into the world of make-belief, Cynthia believes she is a star.
In a recent chat, Cynthia whose middle name is good luck, bemoans the invasion of her privacy at all times and her secret weapon for dealing with annoying male admirers. Excerpts:
How long have you been acting and what have you learnt in Nollywood?
I started acting at the age of 6. I started with Tales by Moonlight and other NTA kiddies drama. I got into Nollywood proper in 1996. I have learnt a lot in Nollywood, almost everything I know now as a proper woman both the good, the bad and the ugly. Besides, I got into showbiz so early in life so it has really taught me a lot.
When you started out, did you have any doubts about your career choice?
No. I had no doubts about my chosen career because I was determined and I know I will make it since it is my talent. Acting is not just something you can pretend about, it is either you have the talent or you don't. I don't see any reason someone will force himself or herself into something he or she was not born to be.
What are you up to lately, do you have projects you are working on?
Lately, I am doing my own things. I have some projects that I am working on. I just co-produced a 52 episode soap opera with someone titled Tears for tomorrow. It's currently running on air and the response has been great although there is still room for improvement. We have got some sponsors for the programme and hope to make it a success in no distant time. I am also working on a pageant for female kids. You can say I have my hands full but without hard work, one can't make headway in life. My objective is to catch them young, make them realize their talents and put it into good use. I believe that will help in eradicating joblessness and poverty which drives our youths into prostitution.
What makes you think it will break through?
I believe in God and hard work. That's all I need to make my projects break through.
In what ways are you improving as an actress and producer?
I improve by learning from others especially our foreign counterparts who have been there before us. Hollywood and Bollywood have taught me a lot. I also learn from my colleagues in Nollywood because no matter where someone is in life, we all have something to offer the next person.
What are the challenges you face as an actress and as a producer?
It has actually not been easy as an actress. There is no privacy, everybody wants your attention and when you don't give it, you become a snub. While as a producer, I have no time for anything, I am always busy. In fact, it's not really easy for me but with God, everything is good and possible.
Would you really say you have made a name for yourself in the movie industry?
Well, Cynthia Agholor is a house hold name, I believe I have tried so far but I can't say I have made a name because I am still making the name glow not only in the movie industry but to the whole world as well.
Would you consider yourself an A-list actress?
A star is a star, it depends on how you see it A list or not. It doesn't hide.
What blessings has being an actress added to your life?
God has blessed me real good through this means because everything I own, I owe it to my career.
You obviously have down moments as an actress, can you share some with us?
My down moments as an actress are when there are less jobs to do. It is not easy to be an actress and there are no jobs to test your acting abilities.
What advice would you give to an aspiring and up-and-coming actress?
They should believe and trust in God. With prayers and hard work, they will make it big.