I'm here to make a difference - Chisom Oz-Lee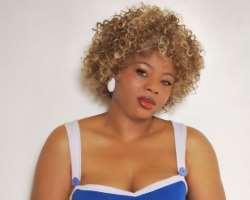 The wind of change continues to blow over Nollywood as more and more professionals are crossing over to swell its ranks. The latest entrant is Chisom Oz-lee, a pretty up-coming U.S based producer/actress. She was in the country recently to shoot a new film starring Ramsey Nouah, Uche Jombo and Mona Lisa Chinda. I had a few words with her and this is what went down.
BA: Hi Chisom!
C: Hi Bola, how you doin'?
BA: Fine…for the benefit of those who don't know you, can you please introduce yourself to us?
C: Well, I'm Chisom Oz-lee, a Nigerian based in the U.S. I'm a film producer and actress by calling and a professional registered nurse by
training.
BA: Hmm…interesting combination. How do you manage both nursing and film producing?
C: Quite easily. I produce films about once a year and work regularly as a nurse for the remaining part. That's what I do for a living.
BA: Why the romance with film making? Why not just stick to nursing?
C: Nursing is a job but film making is a passion. I also combine it with acting…. I have been acting since my secondary school … even while
in I was in UNN studying English. I took part in a lot of drama programmes.
BA: Is this the first film you have ever produced? The one you are currently shooting?
C: No its not. In 2006, I produced 'In a Stranger's Arms' starring Desmond Elliot, Kalu Ikeagwu and myself. Then in 2008, I produced 'Lost Maiden' which starred Omotola Jalade-Ekeinde, Bimbo Akintola and Kalu Ikeagwu.
BA: Kalu again!....you seem to like making use of him a lot…I mean in your films.
C: (laughs) Yes, I like Kalu…. I mean, I like his acting and I would have used him again, in this new movie I'm doing but I decided to opt for variety.
BA: He's single y'know…
C: So?
BA: Maybe you two could hook up?
C: What ARE you saying?! (General laughter) Bola, behave yourself!
BA: Don't mind me.. I like to have fun with my interviewees…
C: No problem… just make sure you get the facts right.
BA: So are you single? By the way has anybody told you… you look a lot like Lil' Kim
C: Yes they have and I take it as a compliment and Yes, I'm but not searching.
BA: What if others are …. searching?
C: Can we get on with the interview please…this is getting…uncomfortable (general laughter).
BA: Okay, back to your projects…. Tell us about 'Lost Maiden; your last film.
C: 'Lost Maiden' is something Im very passionate about. It talks about the scourge of female circumcision.
BA: Tell me more.
C: As a nurse in the U.S. I have seen a lot of cases. Even those of circumcision.
BA: Of Americans?
C: No, ofcourse not. The women I saw, were living in America but came from other countries like Egypt, Senegal and one was from Nigeria. Their cases were pretty pathetic, I tell you.
BA: Im listening…
C: Im going to get rather graphic here….
BA: Go ahead…if it can save a life or sensitize people, the better…
C: Okay, there are actually different types of circumcision; there's the one where just the clitoris of the woman is cut off. Then there's the one where the clitoris, labia minora are cut off. Mind you this is done without any anesthesia, and in very unsanitary conditions. Also cut are tissues, nerves….
BA: Whaaaat! Chisom, abeg e don do!
C: You have heard anything yet…. After this is done, the woman is then sewn up crudely leaving only a little space for her to urinate. She is only opened on her wedding night by her husband. What then happens is that scar tissue forms and makes birth very difficult and painful because there is no more elasticity for that place to stretch when the woman is giving birth.
BA: This affects child birth, right?
C: Definitely! When the woman gets pregnant and wants to deliver, complications arise because the baby can't come out on time, gets distressed and dies. Sometimes she dies too..
BA: But why is it done at all?
C: They say to curb the sexuality of the woman…
BA: And this is still being practiced?
C: Yes… even in this country so I decided to do a film about it called 'Lost Maiden' to educate people on the dangers of the practice.
BA: Hmmm… this is heavy stuff…so when is the film going to be released?
C: It has been released in the U.S but it will be released in Nigeria soon.
BA: Thanks for chatting with me Chisom. I wish you the best in this crusade again female circumcision.
C: Thank you.
By Bola Aduwo for www.nollywoodgists.com
Story by http://nollywoodgists.com