Eucharia Anunobi places embargo on press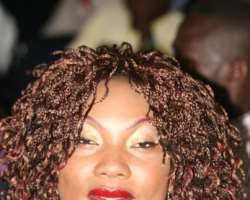 If you are a journalist and dreaming of getting an exclusive interview with Nollywood actress, Eucharia Anunobi, you'd better forget it. UK as she's fondly called has placed an embargo on press interviews until further notice.
Eucharia is not in good mood with journalists these days. The actress is highly peeved with nosy reporters who have pried into everything about her and has successfully ensured that she has no private life.
When accosted for an interview at an event in Lagos last week, the actress matter-of-factly told the reporter that she has placed embargo on press interviews for the rest of the year.
UK even went further to blame reporters for running her marriage aground.
Sources say the actress, who recently survived a marital break-up, aside acting, has now ventured into event planning. She can also be booked as compere for various events. Off the Stage hopes this free advert will make Madam UK have a change of heart!
Story by http://nollywoodgists.com