The art of scaling scandals, by Francis Duru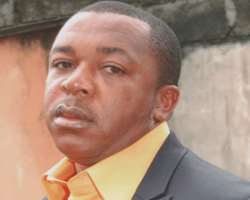 When he started off, Francis Duru took on roles of a man you just have to pity, the unfortunate lover who got jilted, the motherless child, the street urchin. But as he proceeded in his career, Duru has
taken on various roles that have made him a favourite of many movie lovers. With great flicks like Eva, Rattle Snake, Missing Mask and Total War, he has won over a lot of fans. He has since moved to Abuja where he is currently the president of the Abuja chapter of the actors' guild. He had a chat with Hazeez Balogun in Abuja.
Recent works
I have been doing what I know how to do best, which is showbiz business and I have at the same time been smiling to the banks, I have not joined the league of pure water sellers (laughs), it has been beautiful I must confess.
To be precise, I have featured in 19 movies and some are already selling well in the market. I have not only been doing movies but at the same time have gotten myself involved in other things. I run a consulting firm and I thank God in heaven that we are making progress as the day goes by.
Abuja film festival
It's really good I must say, people are doing wonderful things every day and the industry is also improving. It really good. The turn up is quite good and the main thing is that creativity is working for a lot of individuals and they are also making money which is the main reason.
The theme of the festival, 'What Next', It's a fact that we all must take note of, what is the next thing to do about Nollywood? It's a big question that demands a good answer. The industry has improved but we are still lacking behind in some vital areas that is affecting and at the same time drawing us back. The major thing is that, in this industry nobody cares for each other, 'we all fight for our pockets', no feelings for the next person. This festival is a good platform for everybody to relate to each other well and get the best out of each other. We still do not know who we are inside, we have the talent and creativity inside us , they should give us the chance to express it. The main thing is to continue with projects like the film festival and before you know it, we are up there.
The actors guild factions
I don't belong to any faction. I am the president of the Abuja sector. We are the symbol of decorum and we are not practicalising that. Some people are just too selfish and should not occupy a public post. It's a divine orchestration. I am a pioneer member of this industry, passion was the bedrock of the guild, nobody is bigger than the guild.
The 24 chapters gathered to carry out a peaceful election and the outcome was wonderful, Sam Loco Efe carried out a peaceful election and we all can bear witness to the fact that the election was free and fair.
I am not endorsing anybody, Legally he was voted in as the president. I am endorsing that which the constitution accepts. The Constitution accepts Segun Arinze as the president.
Piracy
What is piracy? What is the population of Nigeria? You produce a movie and it does not circulate, piracy will definitely come in. People want to watch the movie, they don't get it in the market and you expect the Ibo boys to keep 'dulling' themselves. NO, They go ahead to produce the copies and make them available for the final consumers who can afford to buy the CD 5 times until they get a good one. That is just it. Make enough copies available for the masses and piracy will have no place in the movie market.
Government support
I do not know anything about that. The industry has survived on the sweat of the people. That is the fighting spirit of an average Nigerian. We are thick hustlers to the core and it continues until you get whatever you want. I don't know anything about the development because I have not seen anything from my own constituency which is Abuja.
Relocation to Abuja
I am an Ibo man. I move when I want to. Like they always say, you don't stay on a spot to watch the masquerade dance. I have more advantage here in Abuja. It's working for me spiritually, physically and mentally, its more relaxed here in Abuja and I have enough time to chase my life goals. It's so calm and I love it
I just came back from Warri and I am supposed to move to Enugu. People still know where to contact me when they need me. All they need do is to show me the script; if I am satisfied with it, they pay money into my account and then I move.
I relocated in 2000 because I had some other things doing in the Federal Capital Territory. I had some other things I was doing and I found out that the place was stress free and quite conducive for me. It wasn't all about money. Who told you that all those who live in Abuja have money? I came to a new place and the place was conducive for me, it offers the kind of life you want to live. I have always loved a place that is calm and peaceful.
Schooling
I studied theatre arts in school. It was divine in the sense that while you are trying to do some things, certain things don't happen the way they are supposed to. By the time you know what is happening, you would be where you are supposed to be. It was more or less accidental right from the beginning. But as I progressed, I realised that was what God actually wanted for me."To be candid, Theatre Arts was not what I wanted to study. I had wanted to do Law or Mass Communication and all that. But I wrote JAMB exams three times, and the cut-off point kept going higher whereas one wasn't getting any younger. I just couldn't take it any longer. When the opportunity came for me to study Theatre Arts, I had to find myself there. I actually did a certificate programme in Theatre Arts before I went in for the degree programme."Come to think of it, it wasn't as if I intended studying Theatre Arts, the opportunity just came. I went to the theatre to see how they were doing their stuff and an opportunity came up for me to read someone else's script."The whole thing was new to me. I stepped into it and, by the time I knew what was happening, I was going for auditions; and then I found myself in the university."I don't regret any bit of it at all. I still think it was divine. If I had gone in for Law or mass communication, I don't think I would have done as well as I have done for myself now. My parents did not make a fuss about my decision. I was born in Cameroon. It wasn't as if my parents had so much grip on me and told me I must do a particular course. The most important thing for my dad was for me to be in the university. I entered the university and I was doing well. The movie thing came up and blossomed, and I thank God for that.
Nollywood experiences
My first movie was the Missing Mask. I shot the movie when I was in the university. After that, I did Evil Passion; and then, Rattle Snake. There was an audition and there was a judge. I got the job. That was how I came into Nollywood. Since then, it has been progressive. It is something I would want to do anytime and any day. At least one can pay one's bills from it, raise a family, build a home and lend help to the extended family members. It has been worth the while. We are doing our best and we leave the rest to God. Every job has its own hazards. As for me, my philosophy of life is what you can call 'like this like that'. Life is a bittersweet sandwich. It has a bit of hard, sweet, sour and salty taste. But you don't have to waste your time dwelling on the negative aspects of life. You have to concentrate on the positive aspects. The negatives must come, because they are the things that fortify you as a human being. I don't see those things as a problem, since life itself is not perfect."I don't joke with any movie that I do. I give my very best in all the movies I do. I love to do challenging movies because such makes me do something extraordinary. I give every movie so much respect.
Coping with stardom
I always want to be me at any given time. I don't like to lose my individuality as a person. Yes, being a star, a celebrity is wonderful; there is nothing like being celebrated and I love it so much. But it can never stop me form being who I am. My individuality comes first, because it is the thing that makes me who I am. The moment I leave it to want to be like some other person because of maintaining the life of a 'star,' I lose out on what life means to me."Being a star is worthwhile, but it is not something that could make me go crazy. You are a star in whatever area you are so long as you establish excellence and you have passion towards what you do, and then people see you and identify with you."Being a star does not make you immune from your own internal weaknesses. I don't think it is stardom that drives people to do such things. Whether you are a star or not, if you have a bad habit, you have a bad habit."As colleagues, we should be able to understand the nature of what we are doing. The public demands so much from us. The larger-than-life attitude that is expected of us from the public is something that we should constantly try to avoid. Once you are able to constantly maintain that equilibrium and make people understand that you are as human as any other person, such problems will not come your way. When you indulge in self-glorification and a little problem comes your way, you become so vulnerable and people will say, 'Why did he do something like that'.
Scandals
"There was a time I was badly hit. That was when I was having problems with my ex-girlfriend and my wife now. But these are the things that come with stardom. You cannot run away from scandal, both the ones that are true and those that are not true."While some people are celebrating you, some others are waiting out there to pull you down. When such happens, what do you do? Do you just begin to concentrate on the negative forces and lose out on other things you have to do?"I felt so bad then because things were blown out of proportion. People were not interested in what really happened. But I have a very strong character, I cannot allow such to break me. I just look at those things and I move on with my life."
Coping with admirers.
It is the grace of God that keeps one. Whether female or male, my fans are my fans. We are not perfect, there are times you are broken and there are times you are able to stand. You should have the grace of God in your life, so that you would be able to fight it. For every entertainer in this business, this is our constant fight. It is not as if it is that horrific, but you have to be very diplomatic in all you do
Story by http://nollywoodgists.com