Eucharia Anunobi, Shan George turn comedians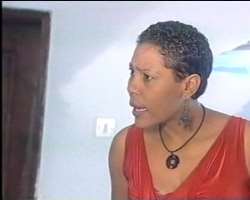 Top Nollywood actresses Eucharia Anunobi and Shan George, are not professional comedians by any rating. But last weekend, the duo proved the contrary, showing the rare stuffs they were made of in the area of comic act.
The actresses, anchoring the premiere of a comedy movie, "E No De Sawa" which held amid fun fare last weekend, at the Aquatic hall of Water Parks, Ikeja, did not only give a good account of themselves as comedians in the making, they also dared the likes of Klink Da Drunk, Gandoki, and many other notable comic acts, who equally entertained the audience at the occasion that had a galaxy of celebrities in attendance.
Eucharia and Shan George, held the elated audience spell bound with their rib-cracking jokes. Some members of the audience, seeing them on stage, could not hold back the feeling that Nollywood is at the verge of losing some of its stars to the humour merchants, following the fact that the industry is already at the throes of decay in recent times.
Only last week, Stella Damascus was spotted at a corporate function where she was anchoring a programme for the organization. Eucharia's and Shan's George, treading the same path, do not surprise many because not much is happening in the industry at the moment.
At the occasion, Shan George, decked in hot-black-mini-gown was in her best elements, traversing between acting and cracking jokes, just as Eucharia, clad in light brown suit, proved to be a good match to Shan George's creative ingenuity.
Till the event reached its climax, parading the likes of Mumma Gee, Fatai Rolling Dollars and many other uprising acts, it was Eucharia and Shan George all the way.
Designed to x-ray and proffer solutions to the ills of over- consumption of locally-brewed gin by some of our present day youths, the movie, "E No De Sawa" starred Klint Da Drunk and many other notable movie stars.
It shows the negative effects of such habitual drunkenness on the families of the culprits, the nation's economy and the society at large.
Klint, who has portrayed the character of a drunk since coming on board as a comedian, is used as a means of discouraging people who live under the influence of alcohol by pointing the way forward for them.
Story by http://nollywoodgists.com