MBGN 2011,SYLVA NDUKA UNVEILS HER RANGE OF HAIRS EXTENSIONS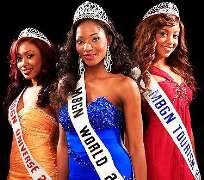 It is called Sylvia's hair and the beauty queen got her other beauty queen friends,(MBGN Universe and MBGN Tourism) to pose with her in a photo shoot.
The hair extension which is very silky in texture is a well accepted brand.
According to Sylvia,she said the hair extensions will be celebrated and will eventually turn out No.1 hair brand in Nigeria.