I can't fall victim of sexual abuse---Patience Oghre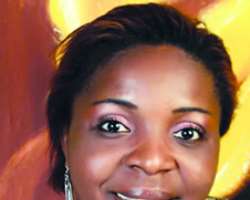 Patience Odiriverherhe Claret Oghre
For someone who confessed that the last time she faced the camera as an actor was five years ago her love for directing would not be in doubt. According to her, "I just focus on directing; I did not want to be known as an actress/director. I just want to have more prominence in directing."
Talking with with Patience Odiriverherhe Claret Oghre, one encountered a down to heart artiste better known as Pat Oghre. But Pat was quick to say "I prefer talking about my work, rather than my personal life." Among her many medals is the Best Female Director for 2009 by the organizers of the yearly organisd Women in the Media Award. Today, Oghre is one of the busiest female motion picture directors in Nigeria. Her name is etched on the credit line of a number of critically acclaimed television productions such as Dear Mother and Everyday People. She also directed other movies such as Domino, Spider, and Household.
An Urhobo from Delta state, Oghre was raised in Lagos; she had her University education in Jos while her Youth Service was in Enugu. Her life has traversed all the cardinal points of Nigeria. The Theatre Arts graduate of UNIJOS who came into the industry in 1995 learned the trick from Zeb Ejiro (the sheik), whom she regarded as her godfather. "I never planned to become an actress; I just came to understudy him." Her interest in the art of make-believe, which started from her childhood, was nurtured through her adolescent ages. "Back in school I was involved in telemovies. I was the character Jamila, in Riddles and Jokes, which was directed by late Matt Dadzie and sponsored by NASCO."
Although she cut her teeth in acting featuring in Candlelight and Broadstreet, Oghre said directing was her ultimate ambition. She described Zeb Ejiro as the man who gave her the opportunity to actualize her dreams.
"I did not have to go to auditions to prove my mettle as a director." She was sought for a number of productions. It was not long before she had her signatures all over high-profile production from various stables such as Virgin Productions (owned by the Opa Williams), Tajudeen Adepetu's Alpha Vision, Amaka Igwe studios and April Ventures, the production outfit behind 'Dear Mother', the weekly Television series.
As an insider to television industry, she is adequately informed about the problems bedeviling programmes on TV, and she summed up these as the problem of securing sponsorships for programmes. "I really don't know what happened to sponsorships. Even in Candlelight, there was no basic sponsor. Candlelight was between Zeb Ejiro and AIT. I think companies should sponsor more soaps. It is a kind of branding, then; once you hear or see an advert, you would know which programme is about to be aired." She added "the returns are not impressive at all; it is just that producers want to be in business.
Even as a director, I feel for producers when I hear the returns they get. So they do really need funding."
Speaking on her area of specialization, Oghre said, "Being a director is about creativity; it is a director's role to turn a boring story to an interesting one. A director interprets a story and recreates it."
Speaking about Television., the director said "Soaps can keep you directing and working for a long time. Soap is about long running; the credits keep coming. I have directed a couple of good Nigerian movies such as Silver Store, Aiye Aramide. My experience with directing Nigerian movies is not the same as in directing soaps. Most people think I don't do movies, I do. My movies are not all over the place or everyday movies." They include Away from home and Aiye Aramide.
On the business of directing, Oghre said "I can't excuse the blunder our directors make. Storytelling is storytelling and some directors have made their worth. Anytime you pick up Tunde Kelani's work, you are definitely sure you are getting your money worth. The director is the final author of the movie no matter what the scriptwriter writes. A director can make a bad story an interesting movie or drama. In foreign countries, Directors and producers make a movie sell; to count a few, Steven Spielberg, Tony Scott, Ridley Scott, and John Turtleturb...for me I believe we will get there very soon. As a director, I do not get too satisfied about my work. I am my worst critic. I see every job as an event or opportunity to self-develop my self. A story has to make sense. Every society has a way of telling the story but the main thing is for it to make sense. Films should not be about who is acting rather it should be more about who is directing or producing. We still have good directors in this country.
"This is the only part of the entertainment industry where you do not fall victim of sexual abuse. Here, nobody pushes you around. But for me, there's a rule I always adhere to; there is no man or woman in this capacity, just to prove your worth. I don't think there is gender issue in directing. We were nominated, at least, it means we are recognized.'
Story by http://nollywoodgists.com