UK'S EMPTY THREAT ON GAY MARRIAGE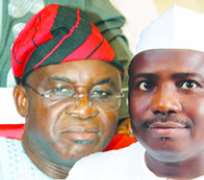 The Nigerian Senate on Tuesday finally put to rest the controversies around a draft bill seeking to make it an offence for anyone to support or get involved in gay marriages. The introduction of the bill is coming on the heels of pressure of global debate over the desire by the western societies to redefine the institution of marriage to include same sex.
Traditionally, marriage has been considered to be an exclusive relationship between a man and a woman based on the understanding that marriage is a fundamental social institution ordered to the common good through the bearing and raising of children. But the promoters of same-sex marriage are kicking against this definition based on the argument that it is prejudicial against homosexuals because it prevents them from marrying someone of the same sex and qualifying for the government benefits associated with civil marriage.
For so many reasons, the introduction of the bill to the National Assembly was severely condemned as unnecessary diversion from issues of urgent national attention. Accordingly, when the senate opened debate on the bill, many Nigerians were quick to dismiss the idea as an aberration to African culture. Seeing it as an ungodly proposition, Muslim and Christian faithful spared no effort in their campaign against the bill. This was not the first time the bill would be brought before the National Assembly. A version of the bill had earlier appeared before the legislature in 2006, but it never went to a vote. Again, in 2008, it was re-introduced, went through two readings, but also never came up for a vote.
However, with Tuesday's resolution of the senate, the idea of same sex marriage is now as dead as dodo. And its ghost has been finally laid to rest. The lawmakers in their unanimous resolution approved a 14-year jail term for perpetrators, four years more than the recommended punishment from the Senator Umaru Dahiru-led Committee on Judiciary and Human Rights. As section 5 of the same Sex Marriage (Prohibition) Bill reads in part, 'persons who entered into a same sex marriage contract, or civil union commit an offence and are each liable on conviction to a term of 14 years in prison'.
Beyond ordinary prohibition, the bill is as exhaustive as it is all- encompassing. Sub-sections 2 and 3 further stipulate fines for any person who either operates or participates in gay marriages as well as spell out punishment and fines for witnesses. 'Any person who registers, operates or participates in gay clubs, societies and organisations or directly or indirectly make public show of same sex amorous relationship in Nigeria commits an offence and shall each be liable on conviction to a term of 10 years in prison. 'Any person or group of persons that witness, abet and aids the solemnisation of a same sex marriage or civil union or supports the registration, operation and sustenance of gay clubs, societies, organisations, processions or meetings in Nigeria commits an offence and shall be liable on conviction to a term of 10 years imprisonment'.
The passage of this bill was in defiance of the UK's threat promising to cut aid to African countries which seek to protect the sanctity of marriage in the name of 'human rights.' At the recent meeting of Commonwealth Heads of Government in Perth, Australia, ending bans that 'discriminate' against homosexuality was part of the recommendations of an internal report of the organization. Against this background, the British Prime Minister, David Cameron, recently came out full blare, insisting that those receiving aid from the United Kingdom should 'adhere to proper human rights.'
But the Nigerian senate rebuffed the threat and passed the bill forbidding same sex marriage. The Senate President, Senator David Mark, even expressly told Cameron to respect the right of Nigeria as a sovereign nation to decide its internal affairs rather than being stampeded to pass a law that is against the cultural values of the people. He said, 'Anybody can write to us, but our values are our values. If there is any country that does not want to give us aid or assistance, just because we hold on very firmly to our values, that country can (keep) their assistance. No country has a right to interfere in the way we make our own laws.'
Nigeria is not alone in this category. Her Ghanaian counterpart had also done the same thing. President John Atta-Mills, calling the bluff of Cameron, told Britain to keep her aids for the passage of anti-gay marriage bill.
Across African continent, many countries already have made homosexuality punishable by jail sentences or death. In Ugandan, for instance, legislators introduced a bill that would impose death penalty for some gays and lesbians, though it has not been passed into law two years since its passage. Even in South Africa, where gays can marry, lesbians have been subject of attack. Besides these states, some 41 nations within the 54-member Commonwealth are said to have laws banning homosexual acts.
This is in spite of the sustained pressure by organizations such as Human Rights Watch, Amnesty International and the International Gay and Lesbian Human Rights Commission to give same sex marriage a universal acceptance. In Nigeria, the House of Representatives is expected to take a position on the subject matter before the bill is finally sent to President Goodluck Jonathan for his assent.
The question now is: of what consequence is the withdrawal of aids to these countries? The Secretary-General of the Supreme Council of Islamic Affairs, Alhaji Lateef Adegbite, reacting to this question, said, 'The issue of what Nigeria stands to gain or lose as a member of Commonwealth nations by passage of the bill does not arise here. We cannot be stampeded to a part of anything that is not compatible with our religion and our culture. Whether Muslims or Christians, we all know that homosexuality is a sin before God and we have all spoken against it. We condemn it in its entirety.'
A retired Bishop of Anglican Church, Bishop Bolanle Gbonigi, on his part, said, 'We don't need any aids from any country; what we need is trade. So, whatever money they think they have to give us, let them keep it.
We are not going to share in such an immoral act. We are capable of solving our problem by ourselves; after all, the western societies had their own difficulties and challenges before the industrial revolution turned round the fortune of their economy. Homosexuality is unbiblical and a condemnable act before God. So, no amount of intimidation will make us substitute human philosophy with divine law. And that is why the Anglican Communion spearheaded the campaign against the evil practice of same sex marriage.'
At present, UK's aid to Nigeria remains quite insignificant. And according to the opinion of Gbonigi, it may not even be necessary if the country's resources are well managed by the political leadership. 'Let them keep their money. Nigeria is already blessed enough to be a great nation except for the greed and selfishness of some people,' he added.
Regardless of the benefits of aids coming from the UK, the matter of same sex marriage is already foreclosed as far as the senate is concerned. The bulk now rests on President Jonathan's table for his assent.