BICEPS OR NOT, FEMALE LIFTERS ARE SEXY - ONUBAYE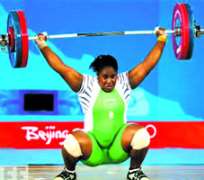 Onubaye
Naturally, women are meant to be attractive and alluring, but with many of them going into sports like wrestling, weightlifting and bodybuilding, most men no longer find such women attractive given their masculine looks.
Be that as it may, an ex-international weightlifter, Sefiya Onubaye, has debunked what he called a negative thought that the biceps of female lifters could be a hindrance to their love lives in finding men to take them as wives. She insisted that women lifters are sexier than most men can think of, stressing that there were more to their romantic sides than one could imagine.
Onubaye, who is one of the foremost female weightlifters in Nigeria and now a lecturer at the National Institute for Sports (NIS), Lagos, said that female lifters attract men and there're a lot of married women lifters, who are doing pretty well both in their homes and chosen career.
'God naturally created women to attract men and men will never stop making advances us,' she said. 'Despite being weightlifters, we are still good looking and always attractive. We are as sexy as any other girl next door. Our men know us and we know how to handle them anywhere to their satisfaction,' she said.
'In the light of this, I want to alley the fears of those women, who would want to join the sport, but are looking back thinking that it would be difficult for them to get married when their muscles are well developed. Let it be known to them that some men are attracted to women lifters because of their good body built following the sport.
'Moreover, I have observed that female lifters are uniquely very patient unlike their male counterparts and that is a virtue men go after,' she added.
The Commonwealth Games gold medallist also revealed to Sunday Sunsports how she retired from weightlifting prematurely despite qualifying for the Olympics. 'Weightlifting is a sport I love so much. That was why after my active days in the sport, I took to its coaching. Now, I am a national weightlifting coach and also a referee. I also lecture at the NIS. I combine all with ease and with my experience as ex-international, a lot has become easy for me.
'I joined the sport in 1988 while in secondary school. At first, it was for fun before I graduated to become a professional. As a professional, I never looked back until I retired. 'Back in those days, we had quite a few number of women lifters, but it was a thing of pride for us. But all that has changed. Now we have a lot of women lifters out there who are doing even better than their male counterparts,' she said with a ting of pride in her voice.
Onubaye said that in most of the major championships they have attended, female lifters pick more medals than their male counterparts.
'Gone are the days people looked at weightlifting as a sport solely meant for men. Today, even married women with children are in the sport. It has even been proved scientifically that women, who have had babies are stronger than those yet to have children.'
On her early retirement from the sport, she said that it came at a point she never expected.