SAM LOCO EFE RESURRECTS IN NEW FLICK I'LL TAKE MY CHANCES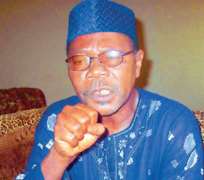 The death of one of the finest Nollywood talent that Nigeria has ever produced, Sam Loco Efe was a big blow to the play-acting profession. His death saw many opened up on how it would be difficult for the country to ever have a fine actor like the locomotive Sam, as he was fondly called by friends.
Uncle Sam, as he was also being referred to, died on Sunday August 7, this year and was buried on October 21, after spending over 70 years on earth.
According to confirmed information getting to NigeriaFilms.Com, Sam Loco will resurrect and his fans and lovers would have the chance to see their wonderful actor when he finally resurrects in Lagos. The date of his resurrection has been fixed to be on December 30, 2011.
As we learnt, Uncle Sam will resurrect in I'll Take My Chances, a movie produced by the duo of Emem Isong and Ini Edo. The flick was directed by Desmond Elliot.
The movie is billed to premiere at the Silverbird Galleria, on Victoria Island, Lagos. It featured Ini Edo, Sam Loco Efe, Bryan Okwara (former Mr Nigeria), Biola Williams, and others actors. The film was written by the trio of Bola Aduwo, Uduak Oguamanam and Kehinde Joseph.