KSA TURNS FREEDOM FIGHTER?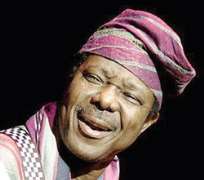 The question making the rounds in the entertainment industry during the week surrounds the mystery behind the title of King Sunny Ade's new work.
KSA
Yes, the question frequently asked about the juju music king is since when did he become a freedom fighter as the title of his new work billed for the market in a couple of days suggests.
The work is titled Freedom Fighter.  But KSA himself is not forth coming to reveal this mystery.  And his distributor, Mr. Ademola  Joshua,  also evades explanations on the title.   Mr. Ademola  simply said: 'Just wait for this explosive work from the Juju Music King himself, it is a new dimension'.
However, Mananging Director of Distinct  Associates Ltd, Mr Clement Ige, who coordinates the production and promotions of the work hinted that 'Freedom Fighter', is a three-track music package designed to lift up the season.  Yet, he too, was evasive on the mystery surrounding the title.
Mr. Ige simply said: 'Freedom Fighter is a deliberate effort to bridge some gaps musically regarding the young and old fans of King Sunny Ade.  It is for all generations, the youth, middle age and the old'.