I'm Single, Still Searching For Ideal Man – Jelyon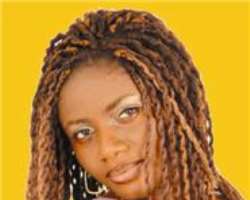 She is simply known as Jelyon in music circle. The eldest in a family of 10 hails from Isiekenesi in Ideato South Local Government Area of Imo State, spoke with Special Correspondent, Lucy Eazee
What inspired you into music?
I think I have the calling from God and I love music so much. I said this because I started singing right from a very tender age when I was in children choir in my church, Saint John Anglican Church. My parents gave me all the necessary support until I lost my mother and then my father started experiencing some financial setbacks and there was no means for me to further my education. So, I decided to visit my pastor for counseling. He then told me to pray and fast which I did, and after that I started having inspirations, encouragement and support from people. In no time, miracle started happening in my life and I started writing songs on my own without any direction from anybody. I was able to write and sing my songs, despite the fact that I didn't go for any musical training. I believe God just wanted to use me as an instrument of praise. That's why I am into music today.
What is your first experience like as a professional musician?
My first experience as a professional musician was in 1998 when I was invited for a show to at Aba. The show was organised by NTA to promote upcoming artistes. I did my best because at that moment I was inexperienced; it was later aired on television and that really motivated me to continue because I never intended to pursue music as a career.
What's your educational background?
Well I attended Saint Mary Madeleine Seminary School, Ubakala, Umuahia, Abia State, where I obtained my first school leaving certificate. At present I am a second year undergraduate of tourism in the National Open University.
You sound spiritual, are you a true Christian?
Well, I was born into a Christian family, strong Catholic to be precise. To tell you the fact, my parents first wanted me to be a reverend sister, that was why I went to a seminary school, but when they found out that, that was not my calling and I loved singing, my father started encouraging me.
Do you have an album of your own?
I don't have a full album in the market for now because I am still working on my promotional copy but it is going to be a six to eight- track album. I just finished working on my video and in no time, it will be out.
Since you are from a Christian family, why are you not singing gospel songs?
Well I do R&B but the message is strictly gospel, because Nigerians love emotional songs. I will say that I am only passing a message in breezy, sweet and lovable way.
Now, there are many upcoming artistes in the music industry, how do you cope with the competition?
God! I mean with God Almighty everything will be possible. Even those who have made it, started from somewhere before they became famous. Once you have what your fans want, then you will make it. Like I said, I so much believe in myself and I will make it one day by the special grace of God.
What major challenges are you facing?
I must confess that it has not been easy; starting from financial problem to other problems. I remember when I first performed at the Miss Nigeria Beauty Pageant 2005, I met the executive of ORANGOTAN, a record company that promised to assist me but to no avail. It's frustrating you know, even at a point I wanted to give up because of the nervous tension I was going through at that particular time, but I held on because of my father's encouragement. Although, I have really gone through a lot of disappointments and rejection from people, I thank God for what I am today.
Have you experienced sexual harassment ?
In this aspect I will not like to mention names, but you know as a beautiful upcoming artise, people tend to take advantage of you. I have actually met some people for assistance and they tried to harass me sexually. Still it did not stop me from becoming what I am. Look, everything depends on individual; if you are loose, men will use and dump you. Because I know the kind upbringing my parents gave me especially my mum, no man can deceive me.
Are you married?
No, I am still single and searching for the ideal man
Who is your ideal man?
My ideal man must be gentle, hardworking, God-fearing, handsome, loving and humble because I hate ugly men. Let me tell you, I pray everyday for my ideal man and God will give me my heart's desire.
So what do you do with your leisure time?
Most times I travel and I love reading books. I also cherish making friends and making people happy because I am a funny person.
So how far do you intend to go in this your chosen career?
If there is an end, I will get to the end. That is how far I am going to go. Anywhere I meet a brick wall, I will break it; if I meet a mountain, I will climb it because it is my dream and God will see me through.
Not so many Nigerians know who you are, can you describe Jelyon?
My name is Jelyon, I am from a family of 10. I am the eldest, I have three sisters and four brothers. I hail from Ideato South Local Government Area Isiekenesi in Imo State.
Story by http://nollywoodgists.com