ACTRESS RUKY SANDA TALKS TOUGH ABOUT HER MANY SCANDALS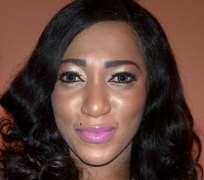 She is one of the most controversial acts in Nollywood but still walks head high as a popular Nollywood actress-cum-producer.
Although her popularity may not be on account of her acting prowess but she has just remained in the news over time.That she is an adventurous and outgoing actress,coupled with her beauty,makes her a name that keeps popping up on the scene.
In a recent interview,she opens up like never before.
Those saying that no actress can make headway without having a man behind her are insane.I don't think they have any brain at all.As far as I am concerned,Iam single and people that know me will tell you I work very hard.I don't care about the impression any one may have,I don't care about what anybody says.They can tag actresses whatever they like,I am not bothered.
I think I have reached a stage in my career that nothing bothers me again.It was when I just started that such things used to bother me.At times,I would start contemplating throwing in the towel but now I have passed that stage.
Nothing could be written about me that moves me again.Even in most cases I don't get to see them,and no one ever had the gut to say it to my face that I am this,I am that.
It's amazing these scandals or gossip don't bother me.It's amazing how some people want to die over such.What bothers me is how I am going to move forward in my career,move to the next level.
I have a plan of what I do every year but one thing that is certain is that I do business which brings me money.I am a business minded person apart from acting.
I buy and sell.I sell clothes,I don't just sell to everybody,I have a class of people that I buy clothes for.I sell in bulk.I sell other things so far they bring me money.
Acting has done a lot for me.I have the voice that so many people don't have.I can say something I consider stupid now but it will matter to some people,that it may eventually have impact on their lives.So,I realized acting has given me a voice,it's a rare opportunity.Having a voice means that people love to hear what you want to say.
People see you as role model,some people love you,some may hate you for no just cause,some people are jealous of you and all that.It makes me realize that oh!This is what I have and I am going to make use of it.I thank God I am moving on with my career,especially now that I am more involved in production.
click the link below to go to...
ACTRESS RUKKY SANDA UNDERWENT PLASTIC SURGERY?.
LASTEST GIST ON ACTRESS RUKKY SANDA.
What Is Between Rukky Sanda And Fash-Lanso?.
The Last Time I Cooked Was During Fasting Period _Rukky Sanda.