'How I get my jokes'---Mandy Uzonitsha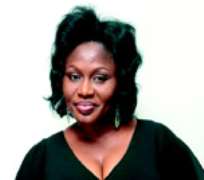 If anyone goes as far as describing Akpobome Alleluya Atunnyota a.k.a Ali Baba as the grandfather of Nigerian comedy, by the same token, no one would be wrong to describe Mandy Uzonitsha, popular as Mandy, the grandmother of comedy in the country. Having found her way into the entertainment industry in 1992, via the Charly Boy Show, a one-time popular television programme, Mandy stayed on until the first opportunity of performing as a stand-up comedian came her way.
It has not been all rosy, however, for this Delta State-born actress, for as she told The Source, "nobody wanted to give a female comedian the chance to prove what she is worth. No one took me serious. They felt when I am tired of fooling myself I'll leave the scene," she said.
Even with the discouragement mounting by the day, Mandy stayed the course, such that today, she is regarded as the best among the tribe of female comedians which includes Lepacious Bose, Princess, ChaterBo, and Helen Paul among others who she had encouraged (by her presence) into the industry.
Mandy, a Political Science graduate of the Nnamdi Azikiwe University, Awka is mother to two girls-one biological and adopted. While her father is from Asaba, the Delta State capital, her mum is from the Urhobo-speaking part of the State.
At 37, Mandy proudly proclaims that she is very accomplished – but not in what many of us may think– in the Lord Jesus Christ.
"I am into Him and He is into me,', she told The Source.
You have been in this industry for quite a long time... E don te o, my sister, I don turn Methusela sef. When did all this comedy stuff begin with you?
I started comedy actually in 1992 with Charly Boy on his show, but stand up comedy for me started in 1999.
You must have known you were witty to have joined the Charly Boy Show as a comedian.
Not really. You see my university was on strike back then. It was one of those Babangida strikes and we were at it for two years. I attended the Nnamdi Azikiwe University, Awka back then. I had to join him because I was just sitting at home and doing nothing. I never knew I could make a living from just making people laugh. I am from Delta State and we make people laugh at home, everywhere. My mum, for one, has a great sense of humour and my late grandmum too was fantastic; we used to yab ourselves. Generally we are happy people. I never knew such would one day put food on my table and help take care of my daughter.
What exactly were you doing for Charly Boy and how were you discovered as a talent for stand-up comedy?
We had a segment in his show called The Candid Camera. We played pranks on people, you know. We tried to find out how Nigerians would react to certain things. Then later, I left him. But sometime in 1999, Ayo Animasaun of Hip-Hop World had the first ever Girls Nite Out programme and they were looking for the female equivalent of Ali Baba. Well, I was contacted, and that's how it all started.
Up until now, why do you think female comedians are not taken too seriously?
Because that's the nature of comedy. Ali Baba gave it a face, so the attention automatically fell on the guys. They were planning, repositioning and climbing while I was only trying to survive. I was learning on the job until I came up with a slogan: 'Tailor, to suit your event.' When I go for an hip-hop event, I try to dress to suit the event.' I made mistakes on the job and learnt on it. No one helped me on the job.
How do you manage to stay off gender jokes?
I have encountered people who warned me to stay off gender jokes. But I also realised that it is okay for a male comedian to yab girls but if a woman says the same thing about a man, they get offended. I went through a whole lot of things, that I wouldn't want to talk about, because I want to put them behind. I have moved on and I give God the glory. When many people see me today, they tell me they are my fans and I say 'when did it start?' Really, its gradual, from nowhere and now it is Mandy, Mandy, Mandy! I don't talk too much, I let my job do the talking for me.
Many have given various insights into how they get their jokes; how do you get yours?
I do a lot of research on comedy. First of all, when I get an appointment, I try to work around it. At a government event, I want to yab Nigeria but because I don't want to put the country down, I say, 'let's compare and contrast.' I don't want to go there and start talking about my jokes of 1964. The question should be, does the joke blend with the event? Am I making people laugh because I just want them to laugh? I work hard. You know, being a woman, you have to work two times more to be known as your male counterparts. I was on Project Fame for about 10 weeks and I never repeated a joke. People say we repeat jokes a lot and I think that is one of our greatest challenges. I think somehow, however, my hardwork is paying off. I get jokes from things happening around us. You have to be very observant if you want to be a good comedian. It's a gift.
You said you were once a musician, do you have any work in the market?
Yes. I have a compilation presently in the United Kingdom. When Fela died, a compilation of Afro-beat songs were done and released in the U.K; it was the first of its kind. Alariwo, Weird Mc, Tony Allen, et cetera. My song entitled African Love (Kipa) is there.
On stage, I notice that you often pick on yourself, especially concerning your marital status. Why do you do that?
Nigerians really love to laugh at others and not themselves. I want to make a living and put food on my table and instead of doing it by
picking on others, I rather throw the punches at myself. I know that Lepacious does it to herself because she is big. I don't do the gender thing because I have been told that they won't call me for other events, so I am very careful. In Nigeria, everybody wants you to be married. People go to churches, mosques, herbalists, just to get husbands. I use it to yab us. Nowadays, most women are the ones marrying the guys because they are more hardworking. Most men sit in the house, cross their legs and say 'honey, can I get N10,000 there?' Lepacious Bose was telling me that she met a guy and he was asking her to give him some money to add to his to buy a car. Because we are in a hurry that our biological clock is ticking, we just marry whoever we see.
How do you feel when the crowd don't respond to your jokes?
Last week as I was cracking a beauty-and-the-beast joke, Ejike Asiegbu responded from the crowd by saying: "Ojukwu na my friend." I was immediately thrown off-balance. The next thing I had planned to say just left my head and I got confused. I had to tell God to take control. When you tell jokes you have to carry the crowd along because when you lose them they may end up not understanding you in the long run, so it makes the joke dry. I like being a master of ceremony more because at times you have to work 10 times more to be a good comedian. Basically, God has been faithful and I have always had good audiences.
Many tend to retire from comedy when they are getting old, whereas in other climes, commedians get better with age. Do you see yourself quitting soon?
Yes, because when I am old and grey, I hope to go into politics. The first thing about politics is that you should be known. When you are known and you have done one or two good deeds, people will want to vote for you.
And you think they will take you serious?
By then, they will oh! Because you would have realised that people from Delta State are crazy and very interesting. By then, they will
say 'ha na that idiot wey dey make us laugh, Oya vote for am she go make us happy'.
Story by http://nollywoodgists.com