MONA LIAR CHINDA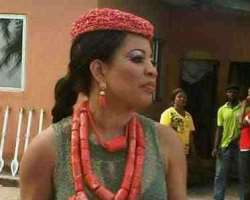 Another hillarious and scintillating news from the stable of News of the People magazine.
Due to popular demand we have decided to bring you this report.
This is the face of one of the ladies with double mouths in the Nigerian movie industry popularly referred to as Nollywood.
She goes by the name Monalisa Chinda.The story about her is very distasteful and rather disgusting,concerning how she speaks from both sides of her mouth.
Before now Monalisa's separation from her ex-husband,Dejo Richards,which eventually turned out to be outright divorce,was the gist on the lips of many.
It will interest you to know however that when your soar away magazine first broke the news about the crack in the marriage of the Glo ambassador over a year ago,hardly had the news got to the public than clever and witty Mona took to the streets to debunk the story saying it was the figment of magazine's imagination.
But it was only a matter of a month after the story was published that the truth of the matter was exposed.And barely a month after the news hit the streets,Mona packed her belongings and left the house after their young marriage broke down in a very embarrassing manner.
While Dejo was busy accusing Mona's family members of breaking his home,Mona,on her side,was explaining to anybody that cared to listen that Dejo is a woman beater.
A lot of water has however since then passed under the bridge as it is no longer a hidden fact that while Mona,a mother of one is still looking for another man to move on with as husband,Dejo has since re-married and moved on with his life.
As if that was not enough,news broke out about the same Mona.This time,it was reported that her age long friend,Nse Etim was thrown out of her apartment where she has been squatting for some time over a matter that has to do with gossiping.
Mona in her characteristic element has been shouting on roof top that the story is not true and described the report as handiwork of never do well.Well,that's another lie!
For the records,we can authoritatively reveal to you that although the two friends who are both into movies have resolved the matter,the truth of the matter however is that Nse was actually thrown out of Mona's apartment and she was left in the cold.She eventually took refuge in a hotel in the Ikeja area of Lagos where she stayed for more than two weeks.
The question bothering a lot of people most especially Mona's fans is that why is this lady just being economical with the truth.
A close source to Mona volunteered Mona is like that,even when we were growing up.She is not the type of person that lays bare her mind.If she tells you anything,cross check first before you act,I will not say more that that".
Perhaps,Mona the unrepentant liar is right now cooking another lie to debunk all these incontrovertible stories,but as lawyers will say if you say one line it will take you another lie to correct the first lie until the whole matter becomes a catalogue of lies until the whole truth and nothing but the truth unfolds.
Mona Liar Chinda,we are waiting for you in your lying galore.
click the link below to go to...
STAR ACTRESS MONALISA CHINDA EJECT NSE IKPE-ETIM FROM HER LEKKI HOME.