OH NO! NOT AGAIN:BRITISH EMBASSY DENIES TERRY G VISA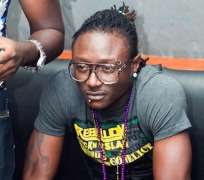 These are definitely not the best of times for Gabriel Amanyi popularly known as Terry G as we learnt he's denied British visa for second time.
According to sources,the inability of Terry G who has visited the United Kingdom once,to be granted a visa is not unconnected with the problems associated with the documents Terry G submitted at the embassy.He is said not to have been able to properly convince the High Commission visa issuing authority that he is just going to United Kingdom to perform at a show and come back without extending his stay or ultimately defecting.
Unfortunately,a popular showbiz promoter,who is believed to be taking Terry G to United Kingdom on the musical tour has already distributed flyers and publicized the show via different social network sites.
A lot of people,most especially Terry G's fans have already had their hopes raised,only for them to be ultimately informed that their beloved artiste has been denied visa by the British High Commission.
Recall that Terry G was denied a British visa just about a year ago.