I don't see women as problem — J-Martins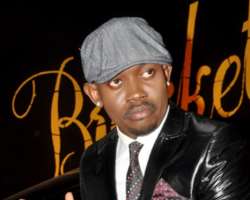 When he came out with his hit debut song, Good or Bad, the question on the lips of many music enthusiasts that saw the music video was, who the hell is J-Martins? Others attributed the song to Timaya who he featured in the star-studded video. But Martins Okey Justice a.k.a J-Martins has since pulled off his mask so people can recognize the fact that he has got the talent. In this chat with AHAOMA KANU, he talks about the strategy, the success, the hope, his love life and the fact that he should not be seen as being gay simply because he is not seen with women. Excerpts:
Good or Bad exploded you to limelight how did you achieve that?
Thank you very much. First of all, I have to say that it was God that brought about the explosion that came with the song Good or Bad and I also thank him for bringing about all the people that came on that project and that is talking about the likes of P-Square, Timaya, Jude Okoye who was behind the scene but was the project supervisor and others. I think it all started with God and I give him all the glory.
When I saw the video of the song, I believed much that the work was Timaya's because he was more prominent in the song both vocally and in the pictures, how did that affect your identity then?
Yes, a whole lot of people said that and a whole lot of comments went out last year that the song was Timaya's; it was Timaya this, Timaya that and he is still my friend. I don't know if they were insinuating that to get me upset or to cause problems with my friend. That song has two different video cuts; I decided to release that one first to draw the attention of the public and the strategy worked very well ; Some people were saying that it was very hard to figure out who J-Martins was really so that's why after that, I decided to bring out Cool Temper where you will not see me on glasses; you will see me in the street with my real face so that people will know who J-Martins is.
You may have been asked this question again and again but can you tell me what inspired Good or Bad?
I would say that I am a humanitarian by nature and love giving time to work know that by the time I retire from active career not just in music which people know me well for though I am into media oriented things that are not visible now, by the time I retire from all these, I will go back to working for charity. Good or Bad was inspired by the things around me; the day to day lives of people' some people will say if you are good, you are bad. If you have money you will be good and if you don't have, then you are bad. It's not necessarily my personal experience but what we face everyday in our society.
Will you count yourself as being lucky to have had all those stars featuring in your debut video and how were you able to get all of them to appear in your video?
I will not say its luck but goodwill. I will say it's grace; God's favour. Like I always say if it's not God, It cannot be God. It was the right time for it to happen and it happened.
How much of your personal experience was reflected in that song because the lyrics were all about you, your 'perceived enemies'?
Everything about the song is about me and this is a challenge every young man faces; when you are a nobody, you will not be listened to. When it seems like there is a future setting forth in your life, even your worst enemy would want to become your friend because they look out for what they will get from you not because they want to associate with you, they still go back and stab you severally and it makes no sense. When the song came out and some of those people you saw there heard it, they were like, my experience is small compared what they went through. So the song is not only about my experience, it happened and is happening to other people as well.
How has Good or Bad affected your life, your career as an artiste and what doors did it open for you?
It opened a lot of doors; Good or Bad is a good job and is still creating openings for me. There were two videos before Good or Bad actually and I was trying to get the name to be on ground and everywhere. When the song came, I knew it was the song that would do the job very well and today, the rest is history.
That particular track exploded you and it must have exposed you to the women, the money, the fame and all that but you have been able to stay away from the tabloids, how do you achieve this?
You can see that I have been calling one name frequently since; I think there are two factors to my being able to keep a cool head; the first is God and the second is the people I have around me. It is not easy for people to advice you on what to do when you are in showbiz. I listen and take advices a lot from people that have been there before me and I value that a lot.
Beating the sophomore ghost is a very challenging feat for artistes that have a hit debut, how were you able to get Cool Temper after the first project?
If you go to Orthopaedic hospital you come across different medical cases involving different people. I love doing one thing and that is to give hope. I believe one of the reasons God gave me this platform is for me to bring to the knowledge of people that there is hope. Cool Temper is all about hope and a reassurance that all will be well. If you believe you will defeat.
When you started your career, did you ever think you will get to where you are now within a short time?
I knew I was going to get to somewhere but what I was not sure was that it would not be this fast. I put a whole lot of hard work; God blessed it and now its history.
Majority of your fans are females and I believe they must have started stalking you, how do you manage that aspect of showbiz?
We talk about women as if they are a bunch of problems; I don't see them that way. I see them as good people that appreciate what you are doing and encourage you to do more. What I try not to do is to abuse the fact that they can be free with you so you now start going the extra mile which you are not supposed to do.
Who is the ordinary J-Martins apart the one we see on stage?
The everyday J-Martins is very quiet though I can be something else.
Can you quickly tell me about who your really were before you came into the public limelight?
My names are Martins Okey Justice and I am from a family of seven. I am from Akanu-Ohafia in Abia State and I did a pre-science course in Computer Sciences at the University of Nigeria Nsukka (UNN) and then went for an OND in Mass Communication in the Institute of Management and Technology (IMT) Enugu before I got a direct entry into the Enugu State University of Science and Technology (ESUT) to study Business Administration in 2000-2001.
Why did you decide to take music as a profession?
I believe music has always been in me; my mum was a choir mistress. The whole seven of us are into music but not as I am doing it. My siblings do their music in the church. In one way or the other we all practice music since it is a gift from our parents; my father is a music loving person. I believe their combination produced what we are manifesting now. I have always been in music but on the production side of it because that was what I was actually doing.
Talking about music production, I have heard Sugar Sugar, a song you produced for KC Presh, tell me how were able to come out as a good singer because not all producers are successful as musicians or performers?
First and foremost, I am not a commercial producer as in everyday studio session producer because I have found out that a great number of artistes are impatient. I don't believe in that philosophy, I subscribe to the fact that you have to put in efforts to come out good. If I decide to work with an artiste, I like to find out who the artiste really is, what genre of music he is into, what he has in mind to do and the song as well. I take the song as the raw material and translate it to what it would become.
What do you look out for in an artiste?
I look out for delivery, for character, composure and an artiste that has a lot of attitude in terms of vocal delivery and confidence.
Do you think the path you chose have paid off?
Yes it has.
How long will you be doing this?
For as long as God gives me strength to do it.
Looking at your fingers does not show any engagement, are you thinking of putting a ring on the finger yet?
Soon, I can't say how soon, there is a lucky girl. I have been asked on many occassons why I have not been sighted with a woman but there is a girl.
Are you gay?
I am not gay and people suspect that I am gay because I am not seen with women but let me say it out loud and clear, there is a girl in my life. I used to be available but now I am no longer available. If any one comes to me now, I will suggest friends for you that you can run things with.
Which Award will you love to win in your career?
I am looking forward to the Grammy.

Story by http://nollywoodgists.com