I'm inspired by the exploits of Nollywood actresses – Edigue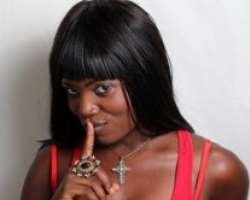 She was the star actress in Gossip Nation, a Nollywood movie shot and produced in far away Australia by Nigerian born Daniel Scrim Okoduwa.
We caught up with the Benin, Edo State actress at the premiere of the movie at the Silverbird Galleria, Lagos.
In this interview Edigue Omokaro who played the lead role Kemi, a gossip loving young lady and who is currently training to become a nurse in an Australian University opens on her life, family and her incursion into the movie industry.
You did wonderfully well in the movie Gossip Nation?
Thank you
Is that your first movie?
That is my first big one. I did so many high school stuff. I've also done many progovernment movies back in Australia. Gossip is my first Nollywood movie.
What do you mean by progovernment movie?
It's like an awareness stuff for those migrating from Africa to Australia. It was called the land of milk and honey. It talks about someone who feels because he has a phD he can have all he wants. Although he has the qualification, he doesn't have the money. And if he decides to travel to a place like Australia without awareness of their immigration policies, he meets with a brick wall.
How were you able to get into the project?
They had an audition and after we were selected with our scripts, we gave it to the government representative and they saw it was worth spending their money on.
You were in high school then?
Yes. But I'm in the University now and studying to become a nurse. I love taking care of people. I love helping the people make a difference.
Or you are studying nursing because it's a profession with a lot of money?
No. There is no business without money involved but that is not my main reason of doing nursing. If I wanted to do something regarding money, I'd study to become a doctor or Lawyer because these professions give one a lot of money here.
My mother is a nurse and I love what she does. She's fulfilled and happy whenever she comes back home. So I really want to do what makes me happy.
How long have you been in Australia?
I've been in Australia since I was nine years old and I'm 25 years now. My whole family is also here with me.
What is life like in Australia?
It is the land of milk and honey, a land of opportunities. Government is there for you always. There is free education and the government does everything to support the citizens.
Does it mean everything there is free?
Recently, I had an operation and I paid nothing. I had an ambulance come pick me up. I stayed in the hospital for about five days and it was all for free. And after my operation, I was in the recovery room for like five days where I was given some medication and I left.
I also heard that the more children you have as a woman, the more you make from the government?
There are more senior (old)citizens than young people. So the government tries to encourage everybody to have kids as long as they are aware that having kids is not easy. It has been proven that in a life time from the time you have a child until the child is 18years, you will spend at least five million in training that child. And that includes food and clothes, education not included and health care. Since government is aware of that, they try to support every family when that situation comes up.
So when a woman has a child, they take her to the hospital and give them a little allowance to help them with the materials they need. So government helps for the first week and you will take a year off. They help throughout on the leave as a citizen
How did you get to know the producer of Gossip Nation?
I got to know the producer because I did some video clips with him. After one of the video clips, he told me he was going to make a movie and wants me in it. Initially I thought he was joking, but a year and half later, he called to say I should show up for the auditions. The rest is history as they say.
There were competitors?
Yes. At the audition, there was a competition; other people wanted to be ''Kemi''. It was really exciting and that made me even more determined to get the role.
What challenges did you face?
Being a student and a part time worker made it really tough to concentrate. Working, schooling and trying to do all of that was hectic.
Again the presence of Monalisa and Ejike made me nervous and left me asking myself ''Am I as good as they? Can I meet the same level as them? '' So that was a bit challenging but I believe and I overcame that.
What was the feeling like seeing your self on the screen at the premiere?
I was like, 'Oh my God! I'm a star now'. I couldn't believe where I got the courage to do all that I did. But I loved it. I have watched the movie and I say thanks' you to the producer for giving me the opportunity to be part of the movie.
Who is your role model?
I have a lot of them. I love Nollywood movies. So in Nollywood, I'll choose Genevieve. I grew up watching her and I love every bit of her movie. She has class and can do anything. Mercy Johnson, Ini Edo, Rita Dominic, there are so many that I look up to.
Do you have shops where you can get good videos in Australia?
Yes. We have Scrim Entertainment that is in the center of the town where we can get real Nigerian movies. I love Nigeria movies and I'm one of the biggest customers.
From the way you act, it seems you'll like gossip a lot?
Patience Ozokwo is one of my idols. And when I first watch her movies, especially where she acted as a witch or a wicked woman, you wouldn't help but think she's a witch in real life. But I've also seen a couple of movies where she acted good roles. So that is what I want.
Everyone gossips and I can never say I haven't gossiped. I have gossiped and have heard my friends share gossips. So we have all experienced it but this character(Kemi), is one I know that at the end of the movie, people will remember. She was naughty, rude, sexy and people will remember that. I actually wanted something like that .