GIVING NIGERIAN CORRUPTION THE CHINESE PILL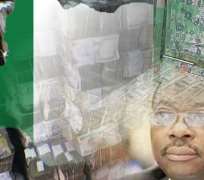 Mr. Tortoise was going on a journey, his wife asked him when he would come back; he replied he would not come back until he has been disgraced.
On November 9, 2011: A city official convicted of graft was executed in China after the highest court approved her death sentence, the state-run Xinhua News Agency reported.
It said Luo Yaping, 50, embezzled 32 million Yuan ($5 million) of public funds earmarked for compensation for land requisition from 2004 to 2007 when she worked in the Fushun city government in northeastern Liaoning province.
The Supreme People's Court said in a statement that she also accepted 300,000 Yuan ($47,000) in bribes from two real estate companies, Xinhua said. She was sentenced to death in December 2010 and unsuccessfully appealed the verdict in June.
In August 2009, China executed two business people for defrauding hundreds of investors out of more than $127 million, calling the scam a serious blow to social stability, state media said Thursday.
China puts to death more people than any other country, although last month a high official for the Supreme People's Court, which reviews every death sentence, said the punishment should be used more sparingly.
Though usually reserved for violent crimes, death sentences are also applied for nonviolent offenses that involve large sums of money or are seen to threaten social order.
China's highest court said the fraud had "seriously damaged the country's financial regulatory order and social stability," the official Xinhua News Agency said.
The report said Du Yimin, a beauty parlor owner from eastern Zhejiang province, collected more than 700 million Yuan ($102.5 million) from hundreds of investors by promising them monthly returns of up to 10 percent from investments in beauty parlors, real estate and mining businesses owned by her company. She spent most of the money on houses, cars and luxury items, Xinhua said.
The second defendant, Si Chaxian, collected 167 million Yuan ($24 million) from 300 people by saying they could receive interest of up to 108 percent.
This is the second time in a space of few months that I am treating the subject matter corruption. It seems that it only gets worse.
At the on-going trial of the former Chief Executive Officer of Intercontinental Bank plc, Dr Erastus Akingbola, more revelations by a prosecution witness of how the first accused moved out billions of naira from the bank to companies owned by him and his wife, Antonia.
Akingbola and his associate Bayo Dada are standing trial on a 22 count charge bordering on stealing over N42.4 billion from the Intercontinental Bank Plc.
Document authorising the transfer of 1.3 million pounds was also tendered.
Another 8.6 billion naira was also taken from the bank through General Ledger manipulation. Mr Akingbola had written a letter instructing that the said sum should be credited to the accounts of Tropics Properties Ltd., Bankinson Nig. Ltd and Tropics Finance ltd around May and June, 2009.Through the same manipulation the sum of 3.35 billion naira was also moved via an instruction given by Tropics Finance ltd. to Bankinson Nigeria Ltd., a company where his wife Mrs Antonia Akingbola has interest.
In Jigawa State the police command uncovered a syndicate involving an area court judge and a former member in the state House of Assembly, defrauding the state government of millions of naira through the state salaries and pension's directorate.
Alhaji Argungu explained that with the assistance of the Salaries and Pensions Directorate, they swung into action to investigate the three files from which the arrests were made.
It's in this nation that you have a president so embarrassed...as a whole office of the secretary of the federation cannot responsibly provide medals for 365 persons both honourable and dishonourable...No heads rolled, so it will happen in the future.
Nothing threatens our social order, for stealing billions, bail is set at few millions, and when conviction takes which rarely happens it's more of a pat in the back.
From the gateman at the state secretariat to the corporal at the police desk, everyone wants something. Everyone is 'prayerfully' waiting for that promotion that will take one to the next level where one can demonstrate that inherent skill at greasing and lining our pockets.
Admission is sold, employment is sold, political office sold, awards are bought, from government, churches, traditional institutions, so naturally we are at the receiving end, the system (already dilapidate) pays for it. Our guiding philosophy continuous to be what is in it for me.
Does is it mean that Nigeria is the most corrupt nation, no, does it mean that there are no honest Nigerians, no too, there are many but never or hardly get the opportunity or swallowed. We may need to start looking at the Chinese pill.
Corruption is everywhere in the world, is the Chinese Pill an only solution, not exactly but for how long will it be many days for the thief, one for the owner?
Again I ask... can the EFCC, ICPC provide amount of recovered funds and dates and accounts where the deposits were made including dates of deposits and deposit receipts and from whom these funds were recovered from?
Those arrested, status of the cases in court, from Dariye to Nnamani, Jolly Nyame to Abdullahi Adamu, Botmang to Orji Kalu, Bankole to Danjuma...The list is endless.
Or is it that the loot is being re-looted? Nigerian corruption and corrupt practices permeates religion, tribe and class. Like headache and panadol, we need to administer a drug to this systemic cancer.
The millions and billions that disappear into private pockets meant for the generality of Nigerians is responsible for those bad roads, those ill-equipped hospitals, poor educational system, dysfunctional utilities system...Like the Tortoise on a journey, until he has been disgraced, there is no coming back. Nigeria and Nigerians, if we do not retrace our steps or take the Chinese pill...we will be disgraced.
Written by Prince Charles Dickson.

Disclaimer:

"The views/contents expressed in this article are the sole responsibility of

thewillnigeria.com

and do not necessarily reflect those of The Nigerian Voice. The Nigerian Voice will not be responsible or liable for any inaccurate or incorrect statements contained in this article."
Articles by thewillnigeria.com