I DON'T LIKE ACTORS AND ACTRESSES WITH TATTOOS ON THEIR BODIES–IYA RAINBOW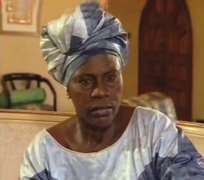 Movie actress, Idowu Phillips, aka Iya Rainbow, told us that the life styles of the new generation actors and actresses were the reason why she was absent from the screen for some time.
Iya Rainbow said she did not like what the new acts were doing and complained bitterly about the tattoos on their bodies.
"Apart from that, I have decided to select scripts myself. I cannot just feature in any movie. It has to make sense to me first," she said.
The actress attributed her success to her dead husband, adding that she almost quit when he died. "I almost quit acting when my husband died. I told people I was going to quit and they urged me to go on. During the time, I had a dream where my husband told me to continue acting. He said I should continue with his legacy. I thank God because today I am now a household name," she said.