NSE IKPE ETIM – An interview with Nollywood's IT Girl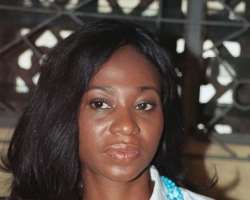 As I sit in the comfortable arm chair in ace Producer, Emem Isong's sitting room, I await the arrival of her house guest, Nse Ikpe Etim the fast rising star in Nollywood; the lady that gave Femi, Ramsey Noah's character a run for his money in the movie 'Reloaded'. Her performance as the fiery wife of a philandering husband really struck a cord with viewers, earning her fans especially among the female folk everywhere and it even got her nominated for best Actress at the last Africa Movie Awards (AMA), no small feat for a newcomer.
All sorts of thoughts rush through my mind as I wait for her …. What will she be like? Haughty? Or fiery like the character, Omoze which she played in 'Reloaded'? How do we greet? With the cursory peck? Handshake? What?!!... as the thoughts swirl round my mind, I hear footsteps on the staircase and the lady in question, Nse, floats down the staircase in a free, flowing kaftan, her hair loosely pulled into a chignon. Her face, make up free, is glowing, radiant in the midday sun. I am taken aback by her simplicity and quiet beauty and can't help but stare awkwardly. She smiles broadly, putting me at ease and I respond immediately, giving her the cursory peck on two cheeks. On meeting Nse for the first time, she strikes you as the girl next door, simple, almost tomboyish. She crosses her legs elegantly and I begin to pick her brain, wanting to know what makes her tick. She says I should use the acronym NILE which is her nickname.
BA: When did you know you had it in you to act?
NILE: When I was 18 though it was strictly stage and not TV. You see I studied Theatre Arts in University of Calabar.
BA: When did you go into acting full time?
NILE: Well, I acted in a soap 10yrs ago called 'Inheritance' then left to do things before coming back to act 'Reloaded'.
BA: Other things such as?
Nile: well, I worked in a radio station, a bank, managed a clothing store amongst other things.
BA: Trying to find your feet, right?
NILE: You could say that.
BA:What made you decide to pick 'Reloaded?'
NILE: It was a fun script and I enjoyed reading and working on part of the dialogue. Also the producer Emem is a friend. She let me know I had it in me to handle the part.
BA: Do you enjoy harassing the living daylights out of people as you did Femi, your co-star played by Ramsey?
NILE: (laughter) Only my friends! I can be a real pain in the arse! I tell you, you take me in small doses!
BA: What brought out the fire in you in 'Reloaded'?
NILE: The fact that I got to act with such a great actor, Ramsey. He made me up my game.
BA: Could you do half as much as Omoze (your character in 'Reloaded') to someone who really ticks you off?
NILE: (smiles) Everybody is capable of being an Omoze.
BA: So who is Nse Ikpe-Etim?
NILE: A simple girl from Akwa Ibom state.
BA: Lets talk about 'Guilty Pleasures' your latest film.
NILE: No fiery tempers there… I'm a pampered, spoilt wife that needs her husband's attention and not only his money, so I search for it in other places. This leads to disastrous consequences.
BA: What was it like working with Majid Michel (actor from Ghana)
NILE: Majid is a darling… so funny. We had a good laugh acting together.
BA: I saw some pretty steamy scenes in the promo… Is it all real?
NILE: (laughs) Ofcourse not… we are in the world of make-believe. We make you believe it's real.
BA: Nigerian films are getting pretty raunchy these days and the actors more daring. It seems you like to push the envelope..
NILE: Why do you say that?
BA: Well, in 'Guilty Pleasures' it like no-holds-barred…
NILE: Guilty Pleasures is a very intense love story… there is no way we could portray that without kissing… but it just that… a kiss!
Hmm… interesting… so what drives you?
NILE: Fear of failure. I hate to fail.
BA: And have you failed before?
NILE: Ofcourse but you jump up and move on.
BA: Do you have any regrets in life?
NILE: (Thoughful) Yes that I don't have a child yet.
BA: That can be remedied.
NILE: I know I just wish I had one already.
BA: So what next for the simple girl from Akwa Ibom?
NILE: Whatever God has in store for me.
BA: Which is specifically?
NILE: Well, I have acted several films after 'Reloaded' some are yet to come out. There is 'Edikan' which is an indigenous film acted in Ibibio language; that has come out,…. there is also 'Memories of the Heart which I acted with Ini Edo and Mona Lisa' and 'Bursting Out' with Genevieve Nnaji and Omoni Oboli. They should come out hopefully before the end of the end of the year or at least the first quarter of next year.
BA: So whats next for Nse?
NILE: Isn't that one enough for now? (general laughter)
BA: Okay….I'll let you off the hook… for now!
(Laughter)
BA: I wish you the best, Nse.
NILE: Thank you. I wish you the same.
BA: Thanks for your time.
NILE: You're welcome.
by BOLA ADUWO
Story by http://nollywoodgists.com