FEMI OGEDENGBE ADDS A YEAR… FETES FRIENDS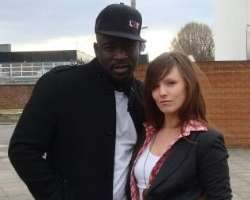 If there is one guy in Nollywood that a lot of people fear to dare it's the tall and very muscular Femi Ogedengbe. He recently returned from London where he went to shoot a multi-million naira Yoruba flick.
Basking in the euphoria of the new film, he called friends, relatives and associates to host them on his birthday a couple of days ago. In appreciating God for His mercies over him and the good things he has acquired over the years he had a gathering at a particular eatery where he feted a few of his friends to some meals and drinks. The handsome dude though, didn't announce his birthday, the low key celebration was well attended by a few of his friends who teemed to felicitate with him.
Story by Alonge Michael