AFTER UNCEREMONIOUS EXIT AS CLASSIC FM OAP,KATHERINE EDOHO CORNERED A JUICY JOB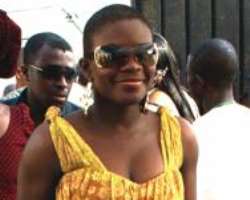 Katherine Edoho,former Nigerian Television Authority,NTA girl,Classic/Beat Fm On Air Personality and estranged wife of the anchor of Who Wants to be a Millionaire has joined Nigerian Info FM.
A reliable source at Cool/Wazobia FM,sister stations of her current employers informed us that she officially resumed this November,while she was formerly introduced as a member of staff of Aim Group,owners of Cool/Wazobia/Info FM on Monday,November 14,2011.
Sources revealed that she joined Nigerian Info as a newscaster.
Congratulations to Kate !
click the link below to go to...
POST SEPARATION TRAUMA FRANK EDOHO'S WIFE KATHERINE SACKED BY CLASSIC FM.