Upclose with Actor, Freddie Annobil-Dodoo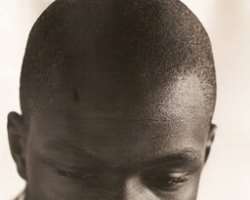 Freddie Annobil-Dodoo is a promising British actor of Ghanaian origins, with big dreams of making it into Hollywood and becoming another household name in acting. Born in South London, Balham, Freddie grew up in East London, Isle of Dogs. It was at the early age of 14 that he was bitten by the acting bug after watching Eddie Murphy in 'Beverly Hills Cop'.
Freddie soon developed an intense passion for acting and it was spotted by his then Drama teacher and English teacher, who got their departments to pay for Freddie to go to a Sylvia Young Theatre School on weekends for a year. He later got into Seltec College, now Lewisham College to study drama for 2 years. There, Freddie learnt a lot of Stanislavski, Brecht, and Shakespeare among other and got hooked on 'The Method'.
At age 21, Freddie got his first role as a professional actor with The Black Theatre Co-op doing Theatre In Education with a play called "Just For kicks" about drug awareness , which toured schools in the London Boroughs. Soon he broke into television and got his first role as one of the main characters in 'Holding On', a BBC2 Drama Series about life in the big city. The series won a BAFTA for Best Drama Serial. Since then Freddie has worked on various productions in TV, Film and Theatre. In 2001 his talent was noticed and he was awarded the Barclays Theatre Awards (TMA) for 'best actor in a supporting role'.
I caught up with the actor and entrepreneur to find out about his journey, dreams and future plans.
Ameyaw Debrah: You have been in theatre, film and television, which do you like the most?
I would say theatre is more challenging because of the live audience; you have to know your part and the play inside out so that the audience can be taken away into the world that the actors, director and writer have created. This can be really rewarding when you meet the audience after a performance when they approach you asking questions and saying that they believed in the characters the actors were playing. But I now prefer TV/film because of the intimacy you can have with the camera (audience); the subtle movements and little gestures that an actor does can be seen a lot more in TV/Film. I've learnt to appreciate acting a lot more because of this.
Ameyaw Debrah: What kind of roles have you played so far?
I've played quite a few roles from a Drug dealer to a Corporal, I like playing roles that are challenging and that also challenge the audience.
Ameyaw Debrah: Do you think African movies and actors are able to challenge themselves and their audiences?
To be honest I haven't seen that many African movies, but from what I have seen they look like things are going in the right direction. I would love to be in one. I however think the "home movie" style and look should go.
Ameyaw Debrah: Do you think actors in the Diaspora, like yourself have a role to play in shaping African films?
We most definitely have a role to play in the African movie scene not just actors from the UK but film makers, directors, producers etc.
Ameyaw Debrah: If you had the chance to play the role of any African personality, who's it going be?
Historically I would say, Kwame Nkrumah.
Ameyaw Debrah: Did you ever live in Ghana?
Well my parents are both from Ghana. The last time I was in Ghana was when I was about 1 or 2 years old. I was lived in Accra, where my mum is from, for about a year and I moved around the country. I learnt some Twi but I've forgot it now (laughs out loud!) I can only understand Twi now and I speak a little. I plan to go back one day soon.
Ameyaw Debrah: What do you do apart from acting?
In addition to acting, I'm also an Entrepreneur. I've just started an online business called Orderfboutique.com selling women and men's designer wear. I'm also in the process of setting up another business, developing e-commerce websites for small businesses and individuals.
Ameyaw Debrah: What's your favourite pastime?
I love listening to music, at the moment I'm on a Jay Z tip! I bought his new album a few weeks ago and it lives in my CD player, great album. Oh and I watch a lot of TV.
Ameyaw Debrah: who are some of your influences as an actor?
My influences are Eddie Murphy (he gave me the acting bug when I was a youngster), Al Pacino (in his younger days), Robert Dinero, Terrance Howard, Benicio Deltoro, Tim Roth, Gary Oldman and Laurence Fishburn.
Ameyaw Debrah: What would you like to achieve with your career?
Good question, I would love to achieve household recognition as an actor so I can give younger actors that fire I had when I was watching my favourite actors in TV or film, when I was young. In five years time I see myself doing a police drama as the lead or in a blockbuster Hollywood movie that would be nice.
Ameyaw Debrah: Are working in any productions now?
I'm not currently working on any productions at the moment but may have something in the pipeline, it's for the BBC...nothing has been confirmed yet.
Discography
Theatre: The Bridge (2 hander), Sing Her Heart Out For The Lads, Yerma, When Brains Don't Count, Shining, Booked, Things Fall Apart, Beef No Chicken, Zumbi, The Day The Bronx Died, Just for Kids, Romeo & Juliet, Dream For Liberty (one man show), Measure For Measure
Film: Three Steps to Heaven, Westway (short film), Greenwich Meantime, Jump Boys (short film), The Final Passage
Television: Casualty (guest artist), She's Gone, Holby City, Helen West, Down To Earth, As If, Casualty, The Bill, The Vice 11, The Bill, Heat Of The Sun, Holding On, Grange Hill, Shakespeare Shorts
Radio (BBC): To Swallow, Things Fall Apart, The Kings Coiner, Heart Of The Matter, Dinner For Two