MR PRESIDENT, DO NOT REMOVE FUEL SUBSIDY, THERE ARE ALTERNATIVES - AN OPEN LETTER TO JONATHAN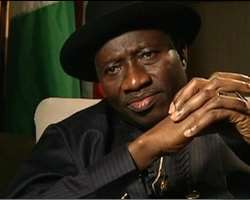 PRESIDENT GOODLUCK JONATHAN
At last what started like a rumour has now come into the fore and has become public knowledge that the plan to remove 'subsidy' on fuel consumption by the Nigerian citizens is real.
Let me enter a caveat that I whole-heartedly agree with the economic reasoning for the removal. It makes good economic sense no doubt. However because of some fundamental distortions in our polity, it will only turn out to inflict more damage on the people leading to a vicious cycle of the ever recurring problems of the rot in the economy and before we know it, the argument will start again on whether or not to remove another 'subsidy' on fuel that would have cropped up subsequently.
It is hoped that these recurring problems and the consequent damage or hurt to our economy and polity will not bring about damage of monumental proportion to the whole Nigerian State. The uprisings in the Magreb Region started like minor problems and they (indeed the world) are yet to get over the effects of the revolution just gone by.
I intend to proffer hereunder some solutions, perhaps alternatives, to this logjam of whether or not to remove fuel subsidy. However before then, I want to commend to you the immortal words of the late sage, Chief Obafemi Awolowo, in his letter to the Political Bureau set up by the then Military President, Gen. I.B. Babangida in the search of a new Nigerian Order then. He wrote:
"Dear Sir,
I received your letter of February 28, 1986, and sincerely thank you for doing me the honour of inviting me to contribute to the National Political Debate. The purpose of the debate is to clarify our thoughts in our search for a new social order. It is therefore meet and proper that all those who have something to contribute should do so.
I do fervently and will continue fervently to pray that I may be proved wrong. For something within me tells me, loud and clear, that we have embarked on a fruitless search. At the end of the day, when we imagine that the new order is here, we would be terribly disappointed. In other words, at the threshold of our New Social Order, we would see for ourselves that, as long as Nigerians remain what they are nothing clean, principled, ethical, and idealistic can work with them. And Nigerians will remain what they are, unless the evils which now dominate their hearts, at all levels and in all sectors of our political, business and governmental activities are exorcised.
But I venture to assert that they will not be exorcised, and indeed they will be firmly entrenched, unless God Himself imbues a vast majority of us with a revolutionary change of attitude to life and politics or, unless the dialetic processes which have been at work for some twenty years now, perforce, make us perceive the abominable filth that abounds in our society, to the end that an inexorable abhorrence of it will be quickened in our hearts and impel us to make drastic changes for the better. There is, of course, an alternative option open to us. To succumb to permanent social instability and chaos. In the premises, I beg to decline your invitation. I am yours truly, Obafemi Awolowo".
My dear Present, unless the attitude of the ordinary Nigerian changes, no economic theory or recipe however well crafted will work in this country; whereas they work in other economies. The Structural Adjustment Programme (SAP) is a clear example. It was designed to take the country out of the economic doldrums it found herself. The crafters, co-ordinated by the highly respected Chief Olu Falae, an economic guru of no mean feat, meant well but the spoilers thought otherwise. The consequence was that the crafters now became harbinger of economic woes for the country.
Mr. President Sir, have you not pondered why this issue of removal of fuel subsidy is now a recurring decimal in our national discourse? Since the days of General Babangida, the one notable topical national issue for public debate and discussion has always been the removal of fuel subsidy. Unfortunately, there have been no improvement in the economy each time it is implemented despite the rosy picture it is painted by the Government officials at its introduction. Why then do we do the same thing every time and expect a different result? Honestly speaking, I am not interested in the argument as whether or not the subsidy in the fuel is real or not. To me that is not important. I am only interested in ensuring that the lot of the ordinary and hardworking Nigerians is not worsened by wrong Government policies or decision.
I am of the opinion that the first thing to set right in the issue of an economic pricing of the fuel is to ensure that we have enough efficiently running refineries and I agree with my friend, Lawson Omokhodion, on this as contained in his contribution on the subject which was published in the Thisday Newspaper recently.
The other suggestions which are quite revolutionary and unusual include the following:
(a) Drastic and substantial reduction in personnel and administrative costs of Government officials. An intense audit of these costs will reveal monumental waste and rot that exist in the Government.
(b) All past Government leaders should surrender not less than 95% of their respective total assets to the States. It is not in my lot to state that they were illegally acquired. I am only interested in their readiness to make the desired sacrifice so that this Nigerian Nation can survive.
(c) All Legislators should only be entitled to nominal reimbursibles for allowable expenses which run, touch and concern their respective offices. This should not by any stretch of imagination include boarding, living, transport, feeding, etc., expenses. Needless to say that this measure will make the offices attractive only to those who are prepared to make selfless sacrifices to the Nation. This will make it possible to see Law making as a vehicle for political and economic reforms.
(d) The current leadership in the Executive should demystify their executive offices in order to unearth the myths surrounding them. This they can do by cutting drastically the paraphernalia of office and anything that will insulate them from the people should be avoided. The Governors of Imo and Anambra States, Owelle Rochas Okorocha and Peter Obi respectively will appear to be leading a quiet crusade in this endeavour. Other Governors should also join.
(e) The State apparatuses responsible for Law enforcement should be encouraged to be more responsive and responsible. This will enable them to be more effective and efficient thus leading an era where no one is seen to be above the Law. The prospect of the Law taking its course will reform our attitude and the desire to be better citizens will be impelled.
(f) The use of siren blaring vehicles should be banned and permitted only for emergencies by ambulances, fire fighting trucks and in certain cases, the police.
(g) On no account should any civilian excluding the President be entitled to any policeman or military man as security aide. Only the President should enjoy this and this is basically because he represents the Nigerian State. All citizens and Government officials who are interested in security aides should have recourse to private security guards who should be paid by them from their pockets.
Mr. President, whilst I do not say that the foregoing are the only ways we can avoid some level of chaos in the nearest future, I make bold to say that they form the minimum requirement/demand towards ensuring peace in this country. If we can do better, then we should expect a renaissance for acceptable good governance and followership in this country. I am quite certain within me, like millions of our compatriots, that if these are diligently implemented, the issue of fuel subsidy would have been taken care of.
In the interim, let me pray that you will be imbued with the Solomonic wisdom in leading this our difficult Nigerian people.
Let us continue to pray for Nigeria. God bless.
Olugbenga Fabilola is a successful attorney-at-law, based in Lagos, Nigeria.
Disclaimer:

"The views/contents expressed in this article are the sole responsibility of the author(s) and do not necessarily reflect those of The Nigerian Voice. The Nigerian Voice will not be responsible or liable for any inaccurate or incorrect statements contained in this article."
Articles by thewillnigeria.com