Egberun Maili (one Thousand Miles) set to premiere in the UK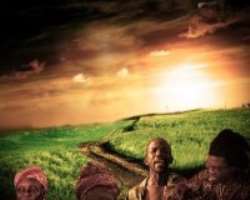 Egberun Maili (one Thousand Miles) is a new movie from the stable of Aroba pictures and one of African/Nigeria's outstanding Producers/Directors of our time, Dotun Taylor.
The concept of that film is really captivating. It is truly an African Nigerian concept which is the most needed in the Nigeria Movie Industry. This mind blowing Movie is subtitled in ENGLISH and FRENCH.
It is a story about young Omolola Adebayo, an intelligent Chartered Accountant Spinster, who mistakenly sends a text message meant for her Fiancée to a stranger's phone. This stranger turns out to be a conservative artist who is a Farmer in Osogbo; Iwintunde Kupoluyi. Iwintunde responds to this text, writing one of the best love poems Omolola has ever read.
Omolola on the other end gets really curious and begins to speak with this stranger on the phone. She notices that her already existing relationship may be threatened, so she tries stopping her friendship with this stranger but could not. One day she gets too curious and wants to add a face to the voice of this stranger, who is a sworn enemy with the Lagos "fast lane" life style. She made the journey all the way to Oshogbo, and her life turned around.
The movie stars Nigeria veteran actress, Bukky Ajayi, Binta Ayo-Mogaji, Surutu, Bayo Bankole (Boy Alinco) and many others.
It will be premiered in the Uk and ireland in November & December 2009.