No Crime In Men Admiring Me -Toyin Adegbola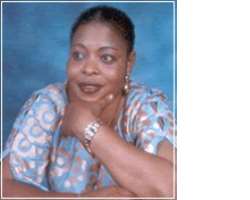 Toyin Adegbola is best known as 'Ajoke Asewo To Re Mecca' and she embraced stardom after her performance in a Yoruba flick of that title some years back.
After her role as a repentant prostitute in the flick, the light-skinned mother and wife has remained in the spotlight as a force to reckon with in the Yoruba movie industry, where she holds sway as a veteran.
"I am so happy that I could attain this stage in my career and life. I was so humbled and honoured by the number of people who graced the celebration of my 25 years on stage recently. In the last 25 years, I'm so happy that I have seen, conquered and I'm still visible. Unknown to many people, the secret of these mileage is God and support from people around me that stood by me even during turbulent times," she began this chat.
This Offa, Kwara State-born actress, who is based in Ibadan and was introduced to the world of make-believe by Tubosun Odunsi, is also a product of a technical school, where she studied electronics after her hope of becoming a nurse was dashed.
"I was born 40-something years ago to the family of late Mr. and Mrs. Babatope in Offa, Kwara State. I attended St. Augustine, Inisha, Osun State, though I wanted to be a nurse and went to the School Of Nursing but I was denied admission three times consecutively and as such later went to the technical school to study electronics. After I graduated, I got a job with BCOS (Broadcasting Corporation of Oyo State) and that was where I used to work before I met my hubby, who also works there. I later resigned after being introduced to the movies.
"I was actually introduced to the movie world by the late Tubosun Odunsi and my first appearance on the screens was entitled Ejo N Gboro. Three years after my debut, I was invited to the set of another flick, Asewo To Re Mecca and played the lead role of Ajoke, which (brought) me to prominence. I have been able to do several flicks after that and establish myself."
With three grown kids, she is still being widely referred to as Ajoke Asewo To Re Mecca or Toyin Asewo To Re Mecca and despite her attempts at some point to rename herself, Toyin sincerely feels nothing wrong with being referred to with such moniker.
"I have termed the whole thing my destiny because sometimes when I think about it, I just give praises and thanks to God, because I wasn't the only person, who played the role of a notorious prostitute in the flick, in fact, a beautiful colleague, Sola Sobowale was also in the flick and in the flick, she introduced me to prostitution but the name has only stuck with me because that is the way God wanted it for me.
"I don't have any problems with the name because my children are all grown and they know it's only a moniker and not a true expression of their mother. In fact, my children know very well what I do for a living and they know their mother is nowhere near a prostitute. I have been to Jerusalem and I have done so well for myself, so it's just a name that comes with the job. We also have Elebolo, Sindodo and all that, so nothing is so spectacular or bad per se about the name," she said.
A woman, who enjoys reading books, she loves Bayo Faleti's books. According to her, "whenever I don't have to be on location or attend any function, I am always at home reading novels or books written by Chief Faleti. I don't stress myself neither do I worry myself with anything because I'm simply contented with whatever or the little that God has been able to provide for me."
In an excitement filled voice, this actress relished her most cherished moment in the world of make-believe. This was neither on stage nor a film location. And in her words, "I just can't forget the first time, I left Nigeria for London in 1998. We were invited by a showbiz promoter, who went with several actors and actresses to London for an event and when we got to London, we were dropped at Gatwick Airport instead of Heathrow Airport and we waited endlessly for our promoters.
"It was while waiting for the promoters that one Nigerian sighted me and shouted my name telling everybody at the airport that she is lucky to see one of her country's most talented actresses in London. It was so surprising to me that after a while, people started coming to me for autographs and I felt so honoured that day and kept that memory sacred because I know that billions of naira can't give me that joy," she said.
With a philosophy of doing her best and leaving the rest but most importantly impacting in other people's lives, Toyin Adegbola said she copes with attention seeking admirers stylishly.
"There is no crime in men admiring me or even when they want something else. All I do is to stylishly and humbly turn them down. Most men always want more than friendship and this has to do with sex but I just tell them it's a no go area because I know I can't sleep with all the male admirers, who are numerous. Sometimes, I ask them, is it possible I sleep with all my admirers, if one is complaining that I'm not giving into his advances. My career and my children are my soul provider, they are also making me happy and fulfilled. I'm a widow of many years and I have decided to remain that way because I don't need a husband. My husband was unlike many husbands, he accepted me the way I am and even encouraged my decision to go into acting."