LAGOS LAWYER,FESTUS KEYAMO OPENS UP ABOUT FAILED MARRIAGE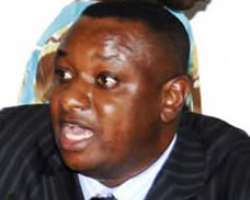 Festus Keyamo is one of Nigeria's leading lawyers.Because of his activism he has successfully etched his name into the consciousness of Nigerians over his activism in the last couple of years.
In a recent interview,he opens up about his failed marriage; You know what? I do a lot of divorce cases for people and there have been more than 150 of such both in Abuja and my Lagos office.From my interaction with couples on Divorce so far,I have come to realize that each one of them is not a devil even though each would try to make you believe that the other partner is wrong.What you find clearly is a case of Incompatibility.Nobody is a Devil and nobody is a saint.
If your minds do not work out,you bolt out.One thing you must know is that the same person who found it difficult to stay with one partner will stay and be happy with another person by the time he or she walks out of the first marriage.
So,the whole thing is about compatibility from the beginning.
The whole thing is that if you don't tolerate her,you cannot love her enough to be with her.That was just my own case.
Asked,what about the kid,how are you coping without them with you,or are they with you? He said They are fine.Don't you know that some of the greatest men and women in the world are from broken homes.The children will always be fine.One thing in life is that the moment any child is born into the world,the destiny of that child is no longer the responsibility of the parent.It is God that is the author of the destiny of that child.God has a plan for everyone He creates.
Anybody can be in custody of the children.I pay them regular visits if they are not with me and their mother is also free to see them at any time.
That to me is nothing.It was all over the papers.I am given a restricted custody and each time I visit them,they are all over me.