RESTORE PEACE IN THE NORTH, MARK TASKS ACF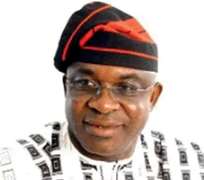 • Mark
Senate President David Mark has tasked the Arewa Consultative Forum (ACF), the umbrella socio-cultural body of the Northern Region, to work out a blue-print on how to end the orgy of violence bedevilling the nation.
The Senate President said the state of insecurity in the North has assumed a worrisome degree and therefore advocated for collaboration between the elders of the North and the government to find solution to the quagmire.
Mark spoke when he received a delegation of ACF Contact and Mobilisation Committee ahead of its December 1conference titled: Sustainable Peace in the North, organised to address violence in the region.
He noted that violence has put both government and the governed in a difficult situation, adding that 'no government would sit helpless and watch the un-abating violence claiming lives and property.'
He, however, admitted that people might be aggrieved for whatever reason but, 'they must follow proper channel of dialogue and resolution rather than resort to violence.' Senator Mark noted that the continued violence in the North has denied the region of meaningful and needed development. 'I am sure that the founding fathers of the North will weep in their graves if they see what today's violence has done to the region.'
'We as the leaders of the Northern Region must rise to stop this orgy of violence. You may not live in those areas but the death of every Nigerian resident in those places is a loss to all Nigerians.' On the proposed peace and unity conference, Senator Mark told all stakeholders to approach issues frankly and honestly devoid of politicisation, adding 'If we politicise it, it would end up like another talk show and that is not what we need now.
'We are all from different political backgrounds. We should not play politics with ACF. We should be honest, patriotic and nationalistic so that we can truly achieve the aim of the conference.' Earlier, the leader of the delegation, Ahmed Mohammed Gusau expressed grave concern about insecurity in the Northern Region, saying 'North that used to be known for peace has now become a harbinger of violence'
Gusau said the conference would deliberate openly and frankly on the crisis in the North with a view to finding lasting solution to the violence.
He said the leaders of the North are very conscious of the fact that only a restoration of peace would guarantee progress, political and economic development as well as achieving the transformation agenda of the present administration.