...BECAUSE WE ARE INVOLVED IN OSHIOMHOLE'S EDO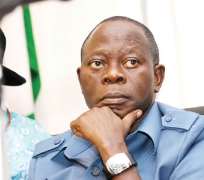 New born democratic administrations take time to settle down; and to stabilize such a system depends quite heavily on the invisible restraints of civility, convention and mutual respect. This process depends on a leadership with high standards, which the present Edo State Comrade Adams Oshiomhole-led administration lacks.
The government itself has become a spin of ill-will, poisoned by mutual suspicion, accusations of sabotage and intemperate speeches and winding rhetoric. Far from providing leadership in the building of a new egalitarian society, the governments spread ill-feelings. A few days ago, the government celebrated its three years in office which, it admitted, cost N2.5billion of tax payers' money. That is the sum our sister state, Delta, used in 2010 to flag off its free health care services.

In July 2011, Oshiomhole spent a princely N200 million to celebrate his victory over the PDP in the April legislative elections in the state and that was exactly the same amount Governor Olusegun Mimiko of Ondo State used to construct an ultra modern market with state of the art facilities. The market today generates employment for over three thousand youths and women as well as revenue to the state.

Edo state is the only state arguably in Nigeria where the governor is all in all, where the governor will commence a State Executive Council meeting with an introduction and without allowing an input from serving commissioners or other members of cabinet till the end of the meeting.

Edo state is the only state where nothing has worked in the past three years, be it in Agriculture, Health, Education, Commerce and where insecurity has become a common factor. Farmers had never had it so bad and an average of twenty people die every hour in our government hospitals everyday just as the hospitals have been reduced to mere consulting clinics and mortuaries.

Apart from the dilapidated infrastructure in our tertiary institutions, the government has not added a block or a kobo to the state university (Ambrose Alli University, Ekpoma), nor help to improve the state of things in any of the state-owned institutions for the past three years. If the governor is keeping to his pledge to cripple the university because of its site (Esanland), a people he has vowed to eliminate politically for their political belief, why does the governor not develop the state-owned polytechnic at Usen and other state schools of higher learning?

Four weeks ago, the law making body, the Nigerian Senate declared Edo as one of the states in serious financial crises. The state is said to be buckling under a debt burden of over N100 billion and for which servicing costs the state N9 billion monthly.

Like Lucky Igbinedion, Oshiomhole has always neglected state issues to gallivant and cruise from one world capital to the other and to come back presiding over the most corrupt system ever known in recent history. But Igbinedion still had time to attend to problems in our hospitals and tertiary institutions. Igbinedion built the Stella Obsanjo Children and Women Hospital and built a twin hostel and lecture theatre in the state university while he also established the Polytechnic at Usen. My little boy of fifteen has often asked me if Oshiomhole was a curse to the state or just a punishment from God.

In spite of all these, he is confident that his report card will speak for him. But we ask, what are the things that Oshiomhole has done that he is singing about and for which he wants Edo people to show gratitude? Is it the 8-kilometer Benin Airport Road dualisation contract which he has recently re-awarded for a whopping N6 billion, thus making it the most expensive road contract in Nigeria at N750 million per kilometer?
Whereas, for instance, Federal road contract of similar specifications (the East-West Road: Warri-P/Harcourt ) dual carriageway complete with drainage, streetlights and road dividers which was awarded by the federal ministry of works cost N 125 million per kilometer!

Is it the deceptive walkways or drainages at the gateways into Benin City to create the façade of infrastructure development in Edo State? Is it the amalgam of political contracts and/or flakey showmanship in some parts of the state that is equated to development?

If this is the stuff Oshiomhole is made, one may wish to ask how much he has spent for these from the revenues collected from the Federation Account, VAT, Excess Crude Account, 13 percent deviation, Internally Generated Revenue (IGR) which is now N1.7 billion monthly and the Capital Market since November 14, 2008 when he stepped in the saddle?

Oshiomhole has collected well over N200 billion since he came to power. How much of this has gone into recurrent expenditure and overhead? How much of this has gone into infrastructure development and/or projects? Oshiomhole claimed over N80 billion has gone into infrastructure development; his information Commissioner, Louis Odion, claimed over N120 billion has actually gone into the process.
Which of these claims do we now believe? Should Oshiomhole not dance naked in the market square on this issue to tell Edo people how he has managed or mismanaged their funds? How arbitrarily, without recourse to due process advertisement (and competitive bidding), contracts have been awarded in the state?
Should he tell the people how over-inflated (not marked-up profit) contract sums have been? How much (billions) have gone into private pockets in the name of contract awards in the state? In fact, Edo people are amazed that so much billions have been claimed to have gone into so little that is paraded as infrastructure revolution in Edo.
There can be no doubt that Edo people are fed up with this status quo, especially in their universal upheaval of disgust that erupts whenever they recollect what they have passed through in the past three years, thus helping their movements to disperse the darkness in high and low places and to spread the consoling illusion of change everywhere. Sadly their intellectuals are not helping enough as political catalysts, giving room for sycophants to thrive, on the pages of newspapers.
In Sule Lamido's little Jigawa State, he has eliminated the "Al- Marjiris" from the streets of Dutse, through its reformed educational programmes. The Niger Delta states of Cross River, Akwa Ibom and Rivers, have reached their crescendo in the diversification of their oil-dominated economy to agriculture and tourism, while our sister Delta State has long forgotten that we were ever once in the same crucible as one state.
Delta state has eliminated all sorts of levies in its schools and striding astronomically in its economic development. Yet, here we are in our own Edo a one-time pacesetter state where in the past three years we have progressed in error with corruption being geometrically dignified while hypocrisy is being hallowed.
Today's Edo state scenario reminds me vividly of my heyday of when teachers used to tell us moonlight stories from the Arabian Night tales. We were told that once upon a time there lived a strewed and cunning man called Abdul and having lost all his fortunes, he said he had an Angel of God in his house, and that only good men could see the Angel. He went on that, if you came into his house and you did not see the Angel then you must have been an enemy of God and a bad man.
For fear of being tagged bad, everybody hypocritically came into Abdul's house on tip-toe and claimed to have seen the Angel of God. In Edo state today most people see the rot and damages that have been inflicted on the state economy by Oshiomhole and his clique, except his cohorts who pretend as the Abdul. If there is any other issue that has caused sleepless nights amongst Edo people, it is the federal road expansion scandal of Oshiomhole.
Apart from over-invoicing of the road contracts he has continued with at the expense of the state roads, for three years, none of the state roads could be completed nor commissioned to a point that he had even revoked some.
The world over, every road contract has its commencement and terminal dates. It has its contract sums which are made public in the spirit of accountability. It is only in Oshiomhole jumbo road contracts that the date of completion of contracts is not known. The costs of the contracts are always shrouded in secrecy and on the upward review as there is no legislative house to checkmate the excesses of the Executive arm of government.
We weep because we are involved in Oshiomhole's Edo State.
Written by Okharedia Ihimekpen, a public affairs analyst from Edo State.
Disclaimer:

"The views/contents expressed in this article are the sole responsibility of

thewillnigeria.com

and do not necessarily reflect those of The Nigerian Voice. The Nigerian Voice will not be responsible or liable for any inaccurate or incorrect statements contained in this article."
Articles by thewillnigeria.com