How Sam Loco's Burial Yield Money For Segun Arinze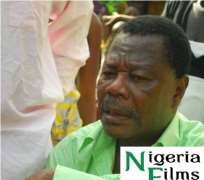 Aftermath of Sam Loco's burial, more behind the scenes of the funeral arrangement seem coming to limelight as the president of the Actors' Guild of Nigeria, Segun Arinze has allegedly been involved in the industry's burial business as usual.
After it was confirmed of the late actor's demise in a hotel that is inside Imo State, the heartland city of Owerri; we learnt that the Imo State government released a huge sum of money that contributed in settling the police that carried an autopsy and as well the transfer of the comic actor's corpse to his home town, Benin City.
When this certain amount of money was pronounced and made available, to the hearing of Segun who as well is in a better position as the incumbent president of the guild to monitor and protect the happenings of the burial arrangement till its final day flew into Owerri, only to request for the sum of three hundred thousand naira for logistics of the members that will be coming from different chapters and states to attend the burial and disappeared.
Bismark, the first son of the now buried veteran actor who gave out the money to him with clear minds couldn't stand it when some close members of the guild called him to know further preparations, which he explained his ordeal but blamed himself as a fresh man and someone who never cared to know his late father's source of survival.
To the disappointment of guests and members of the guild that attended the burial, it was revealed that some left Benin in anger cursing the organizers of the burial for giving them false assurance of accommodation and security.
According to one of them who pleaded for name not to be on print disclosed, "We are highly disappointed with the whole arrangement; how could the organizers gamble with our welfare? I know the late actor, he hated unplanned arrangement, and the opposite was exactly what came for him. We could not even attend the funeral service with the family, because no proper arrangement was made for that".
A situation like this is never the only experience, as it happened to the likes of Ashley Nwosu, Geraldine Ekeocha and a few of others who we were told that some undisclosed persons gave out money to contribute for their burial preparations but at the end did not get to the family.

Segun Arinze