I Shot Two Brides And A Baby Before Mercy Johnson's Wedding Saga – Blessing Effiong Egbe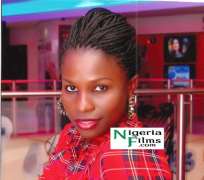 There is no doubt that there have been dusts raised by a movie most people have still not believed has nothing to do or has any link with Mercy Johnson's pre marriage saga.
Tongues have wagged, stories have been written about this film, which has yet to be premiered or seen by the public.
The centre of the controversy is the resemblance the film titled Two Brides And A Baby has with Nollywood actress, Mercy Johnson's pre wedding wahala earlier this year between the months of June and July before her eventual wedding in August 27.
Mercy Johnson had before her wedding to Prince Odi Okojie on August 27 this year had issues with a woman (Lovelyn Okojie), who claimed to still be legally married to price Okojie. She came up with two children she alleged to have been the products of her marriage with the Prince, Mercy's husband.
Though, this development almost threatened the marriage between Mercy and Prince Odi, but it finally took place.
No sooner had this Mercy Johnson's marriage brouhaha had settled down than the movie, Two Brides And A Baby became a public issue.
While some speculated in some quarters that Two Brides And A Baby was the exact story of Mercy Johnson done in a movie by Blessing Egbe, who happens to be the producer of the much talked about movie, others believe that it could have just been a coincidence.
Nevertheless, in all of these, Blessing told nollywoodgists.com that, "We shot the movie in March 2011; we put out the behind the scene props on YouTube in April 2011. I conceived it a year before shooting it and it was scripted and copyrighted long before we shot it."
Speaking further, this ex top model and actress turned producer said, I felt upset, because it was almost taking away the fact that I created the story of Two Brides And A Baby. It was being interpreted that I waited for her issue (Mercy's) to happen and then copy it into a movie. But for me, I think it is good and bad. It just goes to show that I write about everyday happenings"
The movie is set to premiere on November 17, while it is expected to start showing at the cinemas from November 25. Blessing said that by the time they finally see the movie at the cinemas; they will see the true story of the film.

Mercy Johnson