'When a child falls, he looks forward, when an elder falls, he looks backward'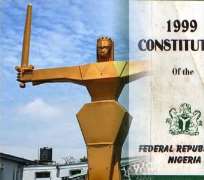 As at May 29, 2011, the 1999 Constitution had been operated for solid twelve (12) years despite the 'flaws' therein. Efforts have been made to review some sections considered pertinent to the smooth running of government, a notable example here is the granting of acting power to the Vice President when the President was indisposed and did not handover formally to anyone for over a period of more than three (3) months in 2010. This was dubbed 'review of necessity' to avoid an imminent crisis in governance then.
The general perception on our democracy thus far is that it is too expensive for us to achieve meaningful results in our developmental efforts. Kudos should be given to the fire- spitting CBN Governor who exhibited unparalleled courage to say that a substantial portion of our budget goes to maintaining the legislative chambers on an annual basis. Similar opinions have even been expressed by some ex- state governors who have succeeded in 'hibernating' in the senate after their terms of office during which they benefitted immensely from the extravagant system. We are not in a state of dilemma, most Nigerians agree with this view; poverty does not know political parties, ethnicity or religion, our scarce resources should be channeled towards infrastructural development that will create enabling environment for investments and the bandwagon positive effects.
Without mincing words, I belong to the school of thought that politics is business; time, money and intellect are invested. Whoever participates will either make profits when elections are won by his/her team or make losses when defeated. Our concern here is when those who have won make 'abnormal profits' to the detriment of the society in general; this can be likened to exploitation that needs to be regulated by laws. Democracy should not be seen as a societal 'milking' tool for politicians.
I hold a strong view that we have enough laws in the country, all we need is the enforcement and occasional amendments when deemed necessary.
The following areas of the constitution need URGENT ATTENTIONS for review if we would stop deceiving ourselves:
1. We DO NOT NEED the number of senators, House of Representative members, house of assembly members and the so-called Local Government legislative chamber members to be effective in making laws. This is also applicable to Ministers at the Federal and Commissioners at the State levels. The numerical strength of the Legislative chambers should be reduced while the assignment should be on a part-time basis. This will reduce the 'do or die' syndrome of politicians. I cannot decipher the laws being made at the local government levels to warrant a legislative chamber! The activities of elected chairmen and counselors should be controlled by non-partisan community leaders who are at the grassroot levels.
The part-time legislative members should place emphasis on oversight functions to monitor the executive arm of government on approved budgets and their implementations. Why would those elected by the populace from areas considered now bedeviled with 'boko haram' threats not be part of the Joint Task Force (JTF) in bringing peace to their domain; they are all now sojourners in Abuja considered a safe haven. What of those who voted them in?
The constitution also requires representation from all the States for appointments as Ministers Etc, this has further gone to bloat up the executive chambers and increase overhead cost. To 'compensate' supporters, competent ones can be made to participate in developmental areas that will create job opportunities for the teeming population rather than 'job for the boys'; at least, the checks and balances put in place by effective and efficient laws would regulate this.
2. Some States have passed some laws found worthwhile which could be replicated nationwide; however, these laws may not stand when the constitution is brought to bear on them. Notable examples in the States are LASTMA and KAI laws in Lagos, VIGILANTE GROUP OF NIGERIA law in Ogun, 'HISBAH' in Kano etc. The effectiveness of these organizations in the states where they exist cannot be overemphasized as regards traffic control, security to life and property and discipline on road side trading etc; these areas have constituted menaces in urban centres. They have been sources of employment for the teeming responsible youths. We are familiar with the slang 'Lagos is working'. These organizations should not be seen to have taken over the functions of the Nigeria Police Force (NPF) but complimentary, they should not be merged while their activities should be streamlined by appropriate laws. We should avoid the merger menace of the 'N20' syndrome of the NPF and the 'N500' of the FRSC! This is not asking for a parallel organization to look like a State Police, we are not mature for that yet.
3. The number of pending cases in our courts brought up by EFCC, ICPC, Code of Conduct Bureau etc on corruption charges are too numerous to mention. Only very few selective and sentimental ones are made to get concluded, others get so many adjournments until they get swept under the carpet. This has more or less 'legalized' bribery and corruption in Nigeria because 'sinners' go unpunished. Laws are desperately needed to create special courts similar to election tribunals to try corrupt cases and transfer existing ones from the normal courts for speedy trials.
The list of sections of our constitution requiring amendments is inexhaustible for us to list here, let's get our bearing right. We can set our priorities in order to apply funds judiciously and minimize wastages in governance. While some suggestions above if implemented will affect the present set of the executive and legislative members, the largesse/perks of office that would be phased out can be extended till 2015 before another election. Most Nigerians will not bother about single term or the number of years a President wants to spend in office if the basics of life which is the responsibility of government are provided. What is my business in Aso Rock if I have good food, regular electricity supply, good transportation, security to my life and property etc? LET THE SENATE ACT NOW TO CONSOLIDATE THE DIVIDENDS OF DEMOCRACY RATHER THAN MAKE NIGERIANS WATCH 'MOVIES' IN THE CHAMBERS.
EPILOGUE: 'Oro to'nlo' (What's up?)
Mr. President said he's not a Pharaoh or Goliath to force things to happen in Nigeria. Please be a Pharaoh to get a group like 'Joseph' to interpret your dreams for Nigeria so as to save us from economic 'famine', majority of those with you should not be likened to 'the magicians and the wise men of Egypt under Pharaoh' who could not interpret his dreams. Nigerians are 'stiff-necked', you can get results by setting task masters to make us fall in line and prepare us for the 'promised land' flowing with 'milk and honey'- good roads, steady electricity supply, gainful employment, security to life and property etc. Please let us see results not endless speeches and promises; we should not deceive ourselves, the whole set up now is 'business as usual', a radical change is our expectation! Yorubas will say 'eniti yio mu oyin inu apata kii wo enu aake' i.e. do your work irrespective of whose ox is gored. The economy is stagnant, let's keep it moving. We 'siddon' look.
Written by J. Oladele Ogunniran, an Agricultural Consultant, Abuja.
Email: [email protected]

Disclaimer:

"The views/contents expressed in this article are the sole responsibility of

thewillnigeria.com

and do not necessarily reflect those of The Nigerian Voice. The Nigerian Voice will not be responsible or liable for any inaccurate or incorrect statements contained in this article."
Articles by thewillnigeria.com